Philadelphia Workplace Injury Lawyer
Almost all types of workplace injuries may be compensated under Pennsylvania's workers' compensation Act, from Carpal Tunnel Syndrome to amputations. If you contract an illness due to working conditions at your place of employment, you may also be entitled to workers' compensation benefits. Accidents at work may lead to fatalities, and you have a right to file a wrongful death claim on behalf of the family. You are contending with your employer, their insurance company, and possibly the doctor you were assigned to; therefore, you must understand your rights if you have been hurt at work. A Philadelphia workplace injury lawyer from Gross & Kenny, LLP is here to help.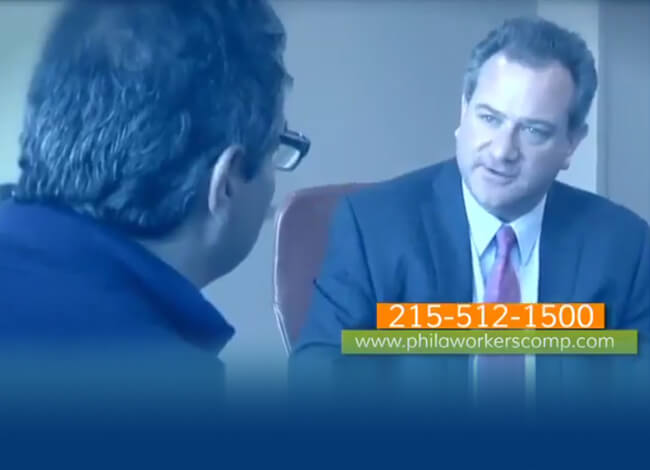 Watch our video to learnmore about our firm
For more than 20 years, Jeffrey S. Gross and Patrick W. Kenny have aggressively fought for the rights of injured workers. Gross & Kenny, LLP uses all the legal tactics and skills at their disposal to make sure that each client receives full and complete compensation for their work-related injury. If you sustained an on-the-job injury in Philadelphia or the surrounding areas of Bustleton and South Philly, contact a Philadelphia workplace injury attorney today to schedule a free and confidential consultation.
What Types of Work Injuries are Covered by Workers' Compensation?
The majority of common workplace injuries are covered by Philadelphia workers' compensation, which requires your employer to pay medical bills and reimburse you for lost wages if you were hurt on the job. Common injuries include:
Amputations
Burn Injuries
Carpal Tunnel Syndrome
Cuts and Lacerations
Degloving Injuries
A disease of the lungs or other organs caused by exposure to toxic substances
Disfigurement
Foot and Ankle Injuries
Fractures
Hand-Arm Vibration Syndrome
Hand and Arm Injuries
Hand and Wrist Injuries
Head Injuries and Headaches
Hearing Loss
Heat Stress Injuries
Knee Injuries
Loss of use of hand, foot, finger, toes, or other body parts
Mental Stress
Neck Injuries
Nerve Damage
Nerve and Tendon Injuries
Occupational Diseases, including asbestos exposure and mesothelioma
Occupational Illnesses
Overexertion
Paralysis, Paraplegia, and Quadriplegia
Psychological or Emotional Injuries
Repetitive Motion Injuries
Repetitive Stress Injuries
Respiratory Disease
Scars and Burns
Shoulder and Rotator Cuff Injuries
Sprains and Strains
Traumatic and Catastrophic Injuries
Vision Loss
Even if your condition is not listed here, it is worth your time to discuss your situation with a Philadelphia workplace injury attorney. Injuries that occur at work should be taken seriously. Many workers neglect to report workplace injuries because they do not think their injury is serious, but you should report your injuries regardless to avoid future pain.
Certain injures do not appear right away. For example, a worker could slowly lose their vision due to poor work conditions or develop nerve damage because of the repetitive motions required for the job. A small knee injury today could lead to a knee replacement when a worker retires. Head injuries can lead to memory loss or impaired motor skills. If a worker was exposed to toxic chemicals, they might develop cancer or lung disease that is expensive to treat. At any point, it may become too difficult to work. A worker could lose their job because they cannot perform their job duties due to a work-related injury.
How Can You Report Your Injuries?
A Bustleton worker must report their injury within 21 days of the injury to receive retroactive benefits. A worker typically has 120 days to report their injury before the benefits are nullified. If a worker reports their injury between 21 and 120 days of the incident, they will receive benefits starting on the date the accident was reported. It is vital to tell a supervisor about the accident, ask for a workers' compensation claim number, and choose a doctor to visit.
A worker may also be concerned about workplace retaliation or termination, but any action of the sort is illegal. Contact our Philadelphia workplace injury attorney for assistance if you were fired or you fear for your job because you reported an accident. We can help monitor the situation. workers' compensation insurance is a no-fault policy, and a worker should be covered for their accident, with few exceptions.
What Types of Injuries are Not Covered by Workers' Compensation?
Workers' compensation benefits are necessary for injured workers to recover; however, a South Philadelphia worker may not be entitled to benefits due to the following factors:
The worker was under the influence of alcohol or drugs when the injury occurred
The worker inflicted the injury on themselves or started a fight that led to the injury
The worker was on the premises but not "on the clock" when the injury occurred
The injury occurred while the worker was violating a company policy or procedure
A worker is eligible for benefits any time they are injured while furthering the interests of their employer. This involves activities ranging from driving a vehicle while on company business to participating in a company social event, such as a picnic. Insurance companies or employers might claim that a worker was not "on the clock" or that they were violating company policy. We will build a defense that shows you are entitled to compensation. Keep important documents, such as your timecards or work report from the day of the accident, find witnesses, and keep your clothes/shoes from the day of the accident. Our Philadelphia workplace injury attorneys will find the rest of the information we need during our investigation.
When Should Injured Employees Contact a Lawyer?
You should contact a Philadelphia workpalce injury attorney at Gross & Kenny, LLP when you feel you cannot report your injury, or you were denied benefits. You may feel that the doctor did not prescribe the appropriate treatment, or your employer may be pressuring you to return to work too soon. We will investigate the matter and intercede where we can. Our lawyers represent Bustleton and South Philadlephia workers throughout the following:
Reporting your injury
Denied workers' compensation coverage
Filing an appeal
Attending an appeal hearing
Having not received the appropriate medical care
Reporting your injury can be easier if we send a memo to your employer. An official letter from a legal office is likely to be taken seriously. If you are concerned about the doctor you were assigned or your timeline for returning to work, we will fully investigate the matter.
Allow Us to Handle the Case
When the Philadelphia workplace injury attorneys at Gross & Kenny, LLP take over your case, we will prepare your defense, collect evidence, and communicate with the appropriate parties. Those hurt at work has a right to be angry or frustrated if they have not been treated well by their employer. However, you should not contact your employer or the insurance company to complain about it. Anything you say could be used against you as we argue your case. If someone calls you about your claim, forward those calls to us. If you are sent official letters or offered an early settlement, let us review everything on your behalf.
Can You File a Wrongful Death Lawsuit?
Work-related injuries may result in fatalities, and a dependent of a deceased worker has the right to file a wrongful death lawsuit. In Pennsylvania, a representative of the deceased's estate must file the lawsuit within six months of the death. Parents, spouses, siblings, and/or children of the deceased may file a wrongful death lawsuit on behalf of the deceased person's estate. You are allowed to recover:
Final expenses, including funeral costs
Medical expenses
Lost potential earnings
Damages for pain and suffering
A wrongful death lawsuit is not the same as a criminal charge. We will argue your case in civil court to recover compensatory and punitive damages for your loss.
Philadelphia Workers' Compensation Lawyers at Gross & Kenny, LLP Help Workers Obtain Benefits for Their Injuries
The Philadelphia workplace injury lawyers at Gross & Kenny, LLP are ready and available to answer any questions you may have about your right to receive compensation after a workplace injury. You might fear for your job, or you may be related to someone who died during a work-related accident. Allow us to review your case and open an investigation that will help you recover as much compensation as possible. Call us or contact us online for a free consultation. Located in Philadelphia, we serve clients throughout the surrounding areas such as Bustleton and South Philadelphia.
Meet With a Philadelphia Workplace Injury Attorney From Gross & Kenny, LLP
At Gross & Kenny, LLP, we are ready and available to answer any question you may have about your right to receive compensation after a work-related injury. Call our Philadelphia workplace injury lawyers today or a free appointment. We return all calls within the same day and we don't get paid unless you do.