Philadelphia Workplace Spinal Cord Injury Lawyer
The spinal cord is a column of nerves bundled together with a sheath of myelin and protected by 31 pieces of bone called vertebrae. It serves as the pathway for communication between the brain and the rest of the body. Together with the brain, the spinal cord controls most of the functions of the body and mind, including all voluntary functions such as walking and talking. Injuries to the spinal cord are therefore devastating and can be life threatening. These types of work injuries usually require extensive hospitalization and recovery times. Spinal cord injuries can also result in quadriplegia, paralysis of all four limbs, or paraplegia, paralysis of the lower body. To discuss your spinal cord injury with a Philadelphia workplace spinal cord injury lawyer, contact Gross & Kenny, LLP today!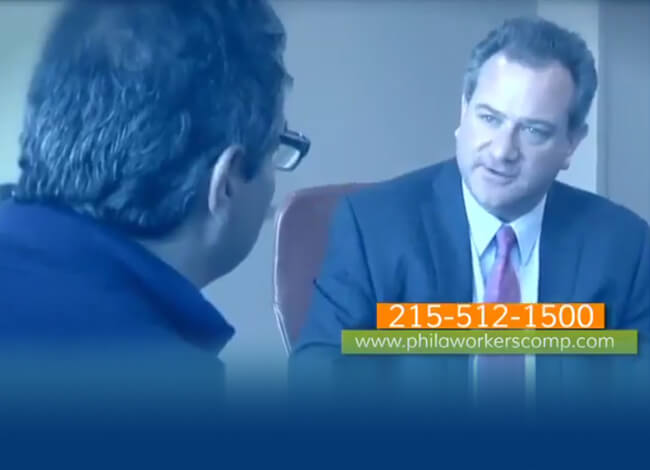 Watch our video to learn more about our firm
Common Causes of Spinal Cord Injuries
Trauma or a blow to the spine is the cause of most spinal cord injuries. This can happen in a car accident, slip and fall accident, and construction accidents, such as a fall from scaffolding, or other workplace injuries. Other causes of spinal cord injuries in South Philadelphia include violent incidents such as shootings and recreational sports activities such as diving and skiing.
Damage from Spinal Cord Injuries
Spinal cord injuries can result in a wide range of serious health problems that may be permanent including:
Changes in personality or mood swings
Difficulty breathing
Loss of sensation
Loss of sexual function/loss of fertility
Loss of muscle function and motor skills
Nerve pain/chronic pain/headaches
Pneumonia (common in survivors of some types of spinal cord injuries)
Problems with bladder and bowel functions
Paraplegia and quadriplegia are usually permanent and require extensive long-term medical care and physical therapy. Paraplegics can suffer from phantom pain and often require a wheelchair for mobility. Quadriplegia can affect the system of inner organs if the torso is included in the paralysis. This may result in difficulty breathing, decreased lung and/or kidney function, and even the shutdown of the digestive system. For those who suffer a spinal cord injury, life expectancy is significantly shorter than the average for people without spinal cord injuries. Because of this, it is vital to contact a Philadelphia workplace spinal cord injury lawyer do discover your legal options.
Prevalence of Spinal Cord Injuries
The National Spinal Cord Injury Statistical Center in Birmingham, Alabama (NSCISC) maintains and analyzes the world's largest database for spinal cord injury research. They estimate that there are 237,000 people alive in the United States suffering from spinal cord injuries. Every year that number increases by 17,000. Statistically, men account for many more of the victims, representing 80 percent of all new cases.
From their data, the NSCISC is also able to show that although more than half of the spinal cord injury patients were employed at the time of their accident, only 12.4 percent were still working one year later. After 10 years, only 27 percent of people are able to return to work. The data also documents the extraordinary costs that spinal cord injury victims must bear. The first-year costs of a severe case of quadriplegia can average more than $1 million, with yearly costs thereafter of $185,000 or more.
Compensation for a Spinal Cord or Paralysis Work Injury
There are many types of compensation available to someone who suffers a spinal cord injury or paralysis from a work-related accident. These include:
Medical benefits
Disfigurement (specific loss) benefits
Permanent Partial Disability (PPD) benefits
Temporary Total Disability (TTD) benefits
Spinal cord injury claims are complex because of the life-altering nature of the accident. An experienced Philadelphia workplace spinal cord injury attorney will seek compensation for the lifelong health care and rehabilitation that will be necessary as well any equipment such as a wheelchair and costs of modifying the home with ramps to accommodate it. Because it is critical that the enduring impact and lifelong expenses of the injury be considered, injured South Philly workers are strongly urged to seek a qualified workers' compensation lawyer with a proven record of success in these types of cases.
Connect With a Philadelphia Workplace Spinal Cord Injury Attroney Now
If you or someone you love was involved in a work-related accident that resulted in spinal cord injuries of any kind, do not delay in contacting a Philadelphia workplace spinal cord injury lawyer of Gross & Kenny, LLP. Spinal cord injury cases are complicated and we have the knowledge and resources necessary to ensure the best possible outcome for your case. Reach out to our firm to schedule a free consultation about your case. We are located in Center City Philadelphia serving clients throughout Bustleton and South Philadelphia.