Types of Philadelphia Workers' Compensation
Jeffrey S. Gross, a certified workers' compensation lawyer,* has been representing injured workers in Philadelphia and surrounding areas of Bustleton and South Philly or more than two decades. For a free and confidential consultation, contact Gross & Kenny, LLP.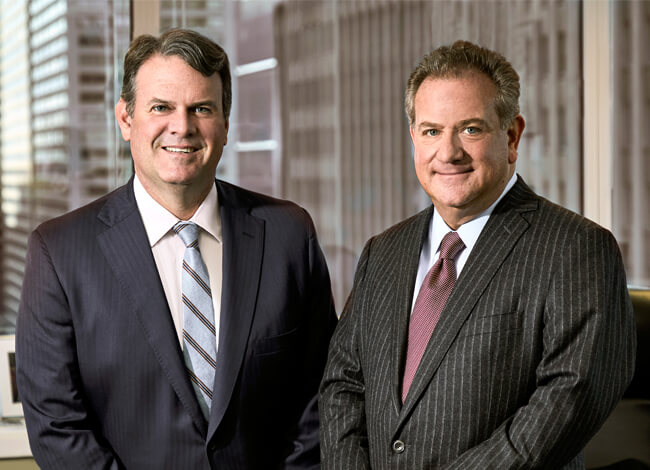 Watch our video to learnmore about our firm
Types of Workers' Compensation Benefits
In Philadelphia, workers injured on the job are entitled to up to five different types of worker's compensation for their injuries:
Death benefits: If a worker is killed in a work accident or dies because of injuries or an illness received on the job, his or her dependent children and/or dependent spouse are entitled under Pennsylvania law to monetary benefits based on the worker's wage. A spouse may receive weekly payments for the entire period of widowhood, and children may receive benefits until they are 18 (or longer if the child is disabled or a full-time student).
Disfigurement or "specific loss" benefits: If a work-related accident results in disfigurement, scarring to the head, face, or neck, loss of a limb or other body part, or loss of a specific bodily function, the worker may obtain additional compensation — calculated based on the worker's average weekly wage.
Lump-Sum Settlements: Injured workers may be able to take a one-time lump-sum settlement for past, present, and expected wage losses or for both their wage losses and their medical benefits.
Medical benefits: The employer is required by law to pay all medical costs associated with the employee's injury or work-related illness.
Permanent partial disability (PPD) benefits: These wage loss benefits are paid under workers' compensation law if a worker is determined to not be totally disabled or if the employee is able to return to work but at a lower-paying job (also referred to as loss of earning capacity). PPD benefits are also calculated based on the employee's average weekly wage. After a maximum of 500 weeks on PPD benefits, the benefits cease unless the employee's status is modified to temporary total disability within the time limitation of the 500-week period.
Temporary total disability (TTD) benefits workers' compensation: If a worker's injury or illness makes him or her totally disabled and completely unable to work, then the employee is entitled to weekly wage loss benefits that are calculated based on his or her average weekly wage. TTD benefits begin after one week of an inability to work due to work-related injury or illness.
Wage Loss Benefits: Under workers' compensation, wage loss benefits will be paid to people who are unable to work temporarily or permanently due to a work-related injury or illness.
Time to File for Workers' Compensation Benefits in Philadelphia
There is often confusion about how long injured workers have to file claims in Philadelphia. Work injury claims do not follow the traditional personal injury statute of limitations for Pennsylvania. There is a separate law that dictates how long workers have to file claims.
It is crucial for injured workers in South Philadelphia to alert their employer about any suspected workplace injury or illness as soon as possible. If an employee wants to receive retroactive benefits for their injury or illness, they must report the incident to their employer within 20 days of occurrence. However, even if a worker does not alert their employer about a suspected injury or illness within 20 days after the incident or diagnosis, they still have another deadline they need to be aware of.
If an injured worker decides to wait to report their illness or injury, they can still do so within 120 days from the date of the incident or diagnosis. If an employee waits beyond the 20 original reporting days, they will not be able to receive any retroactive benefits. However, if the employee reports the injury anytime between days 21 and 120, they will receive benefits starting on the day that they report the injury or illness.
If a workplace injury report is made more than 120 days after the injury or illness diagnosis, they will not be able to receive benefits. To discuss your unique situation or learn more about the types of worker's compensation available to you, contact a Philadelphia attorney.
Why do You Need a Philadelphia workers' compensation attorney?
Work injury cases can become incredibly complicated, particularly when it comes to getting the benefits that injured workers are entitled to. That list of benefit types above is certainly recoverable in the appropriate situations, but that does not mean that Philadelphia employers and workers' compensation insurance carriers will not put up a fight. A skilled Philadelphia workers' compensation attorney will have the resources necessary to:
Obtain all evidence needed to prove what happened, including statements from eyewitnesses, possible video or photo surveillance, employer safety records, and more.
Work with trusted medical professionals to provide a thorough evaluation of the injured worker.
Handle all communication and negotiation with the insurance carriers or the employer.
Fully prepare to help their client through the entire workers' compensation appeals process.
Contact the Philadelphia workers' compensation benefits lawyers at the Law Offices of Gross & Kenny, LLP
Contact Gross & Kenny, LLP, today for a free initial consultation with a Philadelphia Workers' Compensation benefits attorney. We return all calls within the same day, and we don't get paid unless you get paid.