Workplace Nerve Damage in Philadelphia
Many people are quick to assume that you must have suffered a catastrophic or life-threatening injury at work to be entitled to workers' compensation benefits. However, there are many types of work related injuries that may not be considered catastrophic but can have a debilitating impact on your life.
One of these includes nerve damage. If you sustained workplace nerve damage in Philadelphia, you may have the right to worker's compensation benefits. Call a dedicated attorney at Gross & Kenny, LLP to find out what your next steps should be.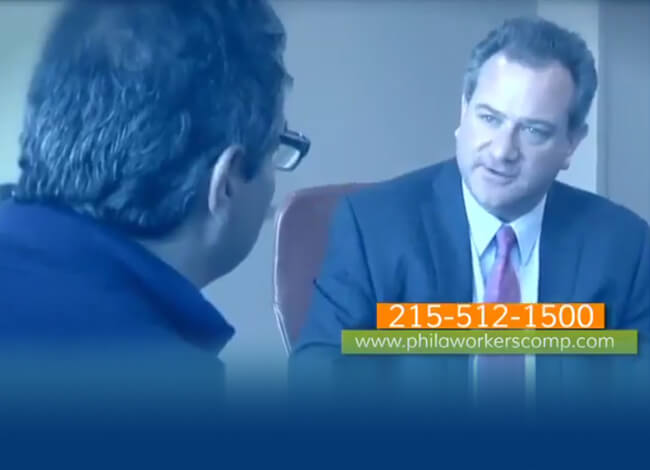 Watch our video to learnmore about our firm
Nerve Damage After a Workplace Accident in Philadelphia
Nerves collect and transmit information throughout the body and are vital to every major bodily function. When nerves are damaged because of overuse or because of a work injury, the consequences can be devastating. Nerve injuries can result in chronic pain, numbness, tingling, and may even lead to paralysis.
Nerve damage and nerve injuries can happen in any type of work environment. Nerve damage is typically caused by repetitive motion or by a sudden traumatic injury. Regardless of the source, the results are the same – pain that can disrupt a person's daily life and activities. Even pain that seems minor at first can develop into a debilitating issue that results in extended periods of disability.
More About Our Firm
Almost all types of nerve damage caused by an accident at work are covered by workers' compensation insurance. Jeffrey S. Gross and Patrick W. Kenny, have more than 20 years of experience dealing with the Pennsylvania system and can help workers who have been injured on the job file a claim and recover benefits. Our practice is focused on defending the rights of injured workers.
Causes of Nerve Damage
Nerve damage is most often caused by repetitive motion, trauma, or illness, such as diabetes. Repetitive motion causes stress injuries such as carpal tunnel syndrome. Many work-related injuries result in nerve damage that continues long after the initial injury occurred. Nerve damage that results from trauma is often more serious than stress injuries. Some catastrophic injuries cause permanent nerve damage that can lead to paralysis.
Nerve damage may result from slip and fall accidents, crushing injuries, head and neck injuries, compression, bone fractures, or spinal cord damage. Exposure to toxins present in the workplace, such as arsenic, lead, and mercury, can also cause nerve damage.
Types of Nerve Damage
There are many kinds of nerve conditions, but most stem from one of two types of damage – tearing and pressure.
Pressure on nerves can block the transmission of signals from nerves to the brain.
It May be caused by stress over time or acute trauma
Damage is generally not permanent and can be reversed in days or months
Nerves can regenerate over time
Treatment includes surgery or physical rehabilitation
Tearing, stretching, or bruising of the nerves and the surrounding tissue can cause serious damage.
Often caused by traumatic accidents, generally not repetitive stress
Results can be limited motion and/or strength, loss of function, paralysis
Damage can be permanent, especially nerve damage that occurs through an injury to the head or spine
Treatment often involves both surgery and physical rehabilitation
It is very important to see a medical professional for the treatment of nerve damage as well as for pain management. When choosing a doctor, check to see if your employer has posted a list of medical providers. You may be required to select a doctor from the list for the first 90 days of treatment. Following that initial period, you may seek treatment from a doctor of your choosing.
Workers' Compensation for Nerve Damage
Pennsylvania law requires that employers carry workers' compensation insurance.
Some employers push for an employee who has suffered nerve damage to return to work on "light duty" to avoid paying fair benefits. However, rest may be crucial to recovery and it is important to have a physician who will support you as you regain your strength and your health.
What Do Workers Compensation Benefits for WorkplaceNerve Damage Consist Of?
When your nerve damage has made it impossible for you to continue working while you recuperate, you may be entitled to specific types of benefits. First, you can expect your employer's worker's compensation insurance provider to cover the cost of your medical care as it relates to your nerve damage.
This might include the costs of diagnosing your nerve damage, your ongoing treatment, and care, including any costs of prescription medications and surgical intervention that may be required.
In addition to covering the medical expenses related to your nerve damage, the insurance company will also be required to provide you with worker's compensation disability benefits. These disability benefits are meant to replace a portion of your income, amounting to approximately 66 2/3% of your average weekly earnings.
Furthermore, if your nerve damage prevents you from being able to continue working in the same industry, you may be able to recover vocational rehabilitation benefits. Here, the insurance company will cover the cost of your education or job training so you can find gainful employment in another line of work.
How to Qualify for Philadelphia Workers Compensation Benefits After Suffering Nerve Damage In a Workplace Accident
To qualify for worker's compensation benefits for nerve damage in Philadelphia, you need only prove that your nerve damage was caused within the scope of your work environment. If you were in violation of your company's code of conduct, under the influence of drugs or alcohol, committing a crime, or self-inflicted injuries that caused your nerve damage, you may be disqualified from worker's compensation eligibility in PA.
Although there are many misconceptions surrounding worker's compensation eligibility requirements. Perhaps you thought you had to work full-time hours or have been employed with the company for a minimum of 90 days to qualify for worker's compensation benefits.
On the contrary, your employer was required to provide you with coverage from your first day on the job, whether you are working part time or full time hours. As long as you were considered an employee of the company, you may be entitled to worker's compensation benefits when you suffer on the job nerve damage.
What Happens If the Insurance Company Denies Your Claim?
Insurance companies deny worker's compensation claims every day. In fact, they have teams of people looking for opportunities to deny the claims of even the most deserving claimants.
If you receive a workers comp insurance denial, reach out to a Philadelphia workplace nerve damage injury attorney to find out how to go about appealing your case. Generally, by providing the insurance company with additional information and documentation, we may be able to get your denial overturned.
Contact a Workplace Nerve Damage Injury Lawyer in Philadelphia for Help
Nerve damage can have lasting effects and should always be taken seriously. If you have nerve damage from an injury suffered at work, you may be entitled to workers' compensation benefits. The Philadelphia workplace nerve damage injury lawyers of Gross & Kenny, LLP, have a thorough knowledge of Pennsylvania workers' compensation law and can provide you with skilled representation for your case. Call 215-512-1500 for a free consultation. Our offices are conveniently located in Philadelphia, allowing us to represent injured workers throughout the surrounding area.