Termination, Suspension or Modification of Benefits
If you have been injured in a work-related accident and are receiving Workers' Compensation benefits, you may be unable to work and dependent on your benefits to support your family while you recover. Termination of benefits before your injury has healed can be a stressful and terrifying prospect. At Gross & Kenny, LLP we fight to ensure our clients receive the maximum allowable compensation, and that their benefits continue for as long as they are needed.
When and if your employer intends to terminate your benefits, you will receive something called a "Petition to Modify, Suspend, or Terminate." If you receive such a petition, contact an attorney right away, so that you will have the advantage of experienced legal representation at the hearing that will determine the outcome of your case.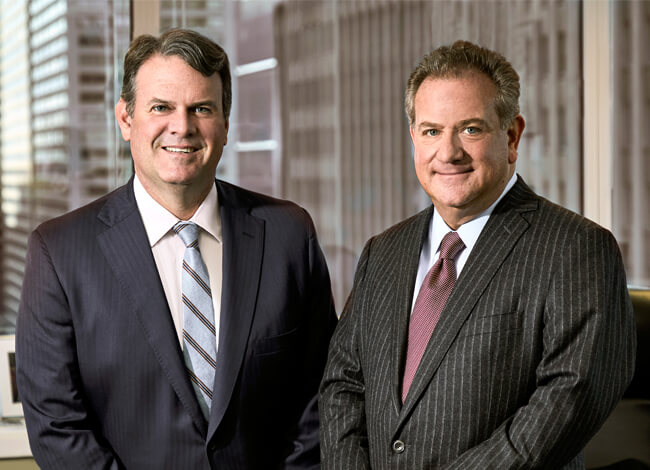 Watch our video to learn more about our firm
How Can An Attorney Help A Termination Of Benefits Case?
If you or somebody you care about has sustained a workplace injury and has been receiving benefits through the workers' compensation system, it can be terrifying to receive a termination of benefits letter. However, just because you have been notified that your benefits will be terminated does not mean that this is the end of the line. Our attorneys are here for these situations.
Having an attorney by your side to handle your workers' compensation or termination of benefits issues in Philadelphia is important. An attorney can handle every aspect of these claims on your behalf and work to ensure that you continue to receive any benefits you are entitled to.
The job of an attorney during the termination of benefits case is multifaceted. In many cases, an attorney will be coming into the situation long after a person has already been receiving their workers' compensation benefits. Termination of benefits lawyer can:
Use their resources to fully investigate the incident, gather all paperwork related to the original claim, and fully analyze the reason why the benefits have been terminated.
Work with trusted medical and vocational experts who can help prove the continued need for workers' compensation benefits period
Handle all communication with other parties involved, including insurance carriers or the employer.
Work with the injury victim throughout the entire appeals process.
A workers' compensation termination of benefits attorney in Philadelphia is more than just someone who will review paperwork and file the appropriate appeals. An attorney will understand the challenges facing injured workers as well as the need for them to continue to receive benefits if they are unable to return to work. An attorney will keep an open line of communication with their client throughout the entire case to ensure that they answer any questions or concerns the client may have.
Common Reasons for Termination of Benefits
There are some legitimate reasons for an employer or insurance company to terminate an employee's Workers' Compensation benefits. These can include:
The employee's work injury has healed, and they are able to return to work.
The employee negotiates a lump sum settlement that allows the insurance company to terminate benefits in exchange.
The period of

 

partial disability

 

benefits has ended. In Pennsylvania, this is 500 weeks, and in New Jersey, it is 450 weeks.
A Workers' Compensation judge orders termination of benefits after the insurance company files a petition to terminate.
The employee is supposed to take part in a treatment program but does not comply.
The Workers' Compensation claim is found to be fraudulent or have a misrepresentation of the facts.
While most employers will only petition to terminate benefits when it is appropriate and legitimate, such as in one of the above situations, some employers or their insurers will wrongfully terminate Workers' Compensation benefits to avoid paying the full amount they owe to an injured employee.
Entitled to Benefits
Your employer may not stop paying your benefits without good cause. A medical expert must testify that your injury has fully healed, you are able to work again, and that any remaining disability does not stem from the work injury. If you are still injured, you may be eligible for benefits and should seek legal counsel from a qualified Workers' Compensation lawyer, who can help you appeal your denial of benefits. By providing medical evidence to support your case, a skilled attorney can take legal steps to have your benefits reinstated.
For instance, if your employer's doctor thinks you are fully recovered and able to return to work, but your personal doctor disagrees, you are not obligated to return to your job. While you appeal your termination of benefits, your payments will not change until a judge reviews your claim and decides the outcome of your case.
Do not underestimate the difference having an experienced attorney can make. At Gross & Kenny, LLP, Workers' Compensation is the focus of our entire practice, and our attorneys know what medical proof is needed to ensure your benefits continue until you make a full recovery.
Contact the Philadelphia Workers' Compensation Benefits Lawyers of Gross & Kenny, LLP
If your employer is challenging your benefits, pressing you to return to work, or asking you to undergo a medical review, it is in your best interest to call Gross & Kenny, LLP, at 215-512-1500 or contact us online today for a free consultation. Our Workers' Compensation attorneys in Philadelphia will defend your rights against any attempt at the termination of your Workers' Compensation benefits. *Jeffrey S. Gross is certified as a specialist in the practice of Workers' Compensation Law by the Pennsylvania Bar Association's Section on Workers' Compensation Law as authorized by the Pennsylvania Supreme Court.