Workers' Compensation Laws in Philadelphia
Suffering a work-related injury in Pennsylvania is no doubt a life-changing experience for workers and their family members. The costly medical bills and time spent out of work can have a significant financial impact, as can losing a family member who was a primary earner.
While no amount of money can heal a workplace injury or make up for the loss of a loved one, benefits do exist to help those who qualify. The Pennsylvania Workers' Compensation Act provides medical coverage, wage loss benefits, and death benefits for injured workers in Pennsylvania. To discuss workers' compensation laws in Philadelphia with a seasoned attorney, contact Gross & Kenny, LLP today!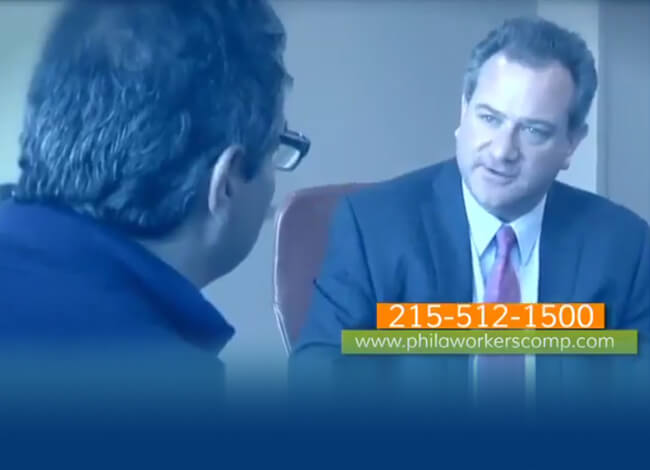 Watch our video to learn more about our firm
Nearly every single worker in Philadelphia is protected under the Act; seasonal workers, part-time workers, nonprofit workers, and even employers with just one employee are all covered under Workers' Compensation laws.  Furthermore, employees who may not be insured may be eligible for benefits under the Uninsured Employer Guaranty Fund.
Additionally, employees in certain industries may be eligible for compensation for laws outside of the Pennsylvania Workers' Compensation Act. These include federal civilian employees, railroad workers, and stevedores.
How is a Worker Covered?
Workers' Compensation laws in Phialdelphia covers employees who sustain an injury or illness while performing their assigned job duties. If the injury or death was self-inflicted, or if the employee was breaking state or federal law during their injury (e.g., being under the influence of illegal substances), then they may not qualify for benefits.
This is one of many reasons it is wise to enlist the help of an attorney when filing a claim to recover compensation. In some instances, insurance companies attempt to avoid paying claimants by suggesting that a workplace injury victim was not operating as an employee when their accident occurred. Or, they may suggest an employee was intoxicated at the time of their accident, or that they intentionally caused the accident because they were hoping for a major payout.
You may need assistance defending yourself from these accusations. A lawyer serving Bustleton or South Philadelphia can conduct an investigation to gather evidence refuting the claims of the insurance company.
How to Claim Benefits
If injured, an employee should promptly report the incident to their employer and seek medical attention.
Don't hesitate to see a doctor right away after a workplace accident. You need medical attention even if you don't think you've sustained major injuries.  If it should be discovered that there was a significant gap in time between the injury and treatment, the claim becomes less viable. An insurer could attempt to deny a claim by deciding there is not enough evidence to prove the injuries you sustained were the result of a workplace accident and not an incident that occurred later (or even earlier). Additionally, if the employee never notifies their employer, then their Workers' Compensation claim may be denied.
If an employer denied an employee's claim to collect Workers' Compensation benefits, then the employee can appeal the decision. It is recommended that they discuss workers' compensation laws in Philadelphia with an experienced work injury lawyer to ensure the success of the appeal.
Timeframes for Work-Related Illnesses
The Act covers occupational diseases if they were caused or exacerbated by employment. The worker's disability must occur within 300 weeks since their last exposure to any hazard.
Claims for respiratory diseases in Bustleton and South Philadelphia generally come from workers who were exposed to silica, coal, or asbestos. Individuals who suffer from respiratory diseases must have worked in the industry for at least two years in Pennsylvania. A disability claim must come within 10 years of a worker's exposure.
Total Disability
Workers who have total disability benefits under Workers' Compensation are considered to be disabled and are therefore unable to work. After 104 weeks pass, the employer and their insurer can require a medical examination to determine if the employee is at least 50 percent recovered. If it should be determined that the Bustleton employee is healed significantly, then their status may be changed to partial disability.
Partial Disability
Partial disability benefits are set for a maximum of 500 weeks. These benefits are reserved for workers who can continue working, albeit in a lower-paying job with work-related restrictions.
While on the partial disability status, if a medical professional finds that the South Philadelphia worker's condition has worsened beyond 50 percent, then the worker may be eligible for total disability benefits.
What Pennsylvania Workers' Compensation Does Not Cover
The losses and damages Workers' Compensation benefits cover tend to be economic in nature. They do not apply to non-economic losses.
For example, a workplace accident can result in injuries that require costly medical treatment. A victim can recover compensation for said treatment via Workers' Compensation benefits.
Those injuries might also cause pain of both a physical and mental/emotional nature. The physical pain a victim experiences as they recover from their injuries may interfere with their quality of life. If their injuries are severe enough to prevent them from participating in activities they once found enjoyable, or if their injuries limit their ability to care for themselves on a daily basis, they might also struggle with mental and emotional pain.
The legal term for such damages is pain and suffering. Workers' Compensation benefits generally don't apply to these losses.
That's just one example. To better understand what does and does not qualify as a compensable loss when filing a Workers' Compensation claim, enlist the help of an attorney who specializes in handling cases like yours. They will answer any questions you may have on this topic. They will also factor in all your compensable losses when deciding how much money represents a fair and appropriate settlement. If you have any further questions, discuss workers' compensation laws in Philadelphia with a seasoned attorney today.
Learn More About Workers' Compensation Laws in Philadelphia From an Attorney
If you have been injured at work in Pennsylvania, or have lost a family member in a work accident, then you are urged to contact the Philadelphia Workers' Compensation lawyers of Gross & Kenny, LLP. Call our Philadelphia offices to discuss workers' compensation laws in Philadelphia during a complimentary consultation.