Types of Workers' Compensation Benefits in Philadelphia
Nearly every employee, no matter what their vocation, has the potential to become injured on the job. When those injuries are severe enough to make continued work impossible, an employee can file a Workers' Compensation claim. In 2014, over $105 million was awarded in connection with Pennsylvania Workers' Compensation benefits, but that sum is far lower than what was originally sought by injured workers. According to the Bureau of Labor Statistics, by mid-2014, just 33% of all claims had been approved.
The stress that accompanies lost salary and wages is only made worse by mounting medical bills, but a skilled attorney can help. With a proven track record of success, Jeffrey S. Gross and Patrick W. Kenny, understand the immense anxiety that is felt by injured workers. Before embarking on a claim, it is important to understand the different types of workers' compensation benefits in Philadelphia.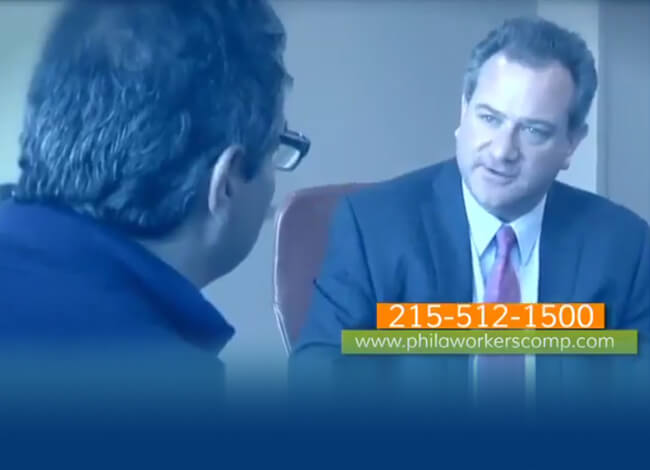 Watch our video to learnmore about our firm
Benefits Available in a Wide Variety of Cases
The Pennsylvania Workers' Compensation Act was established over one century ago to help employees stay financially afloat while recovering from injuries sustained during the course of employment, as well as to limit liability for employers. At Gross & Kenny, LLP, our attorneys strive to obtain maximum benefits for our clients. The following types of benefits may be available for a person who sustains a workplace injury or illness in areas throughout the state such as South Philly and Bustleton:
Medical expenses: Any medical expenses that an injured worker incurs as a result of an injury or illness sustained on the job will be covered under the medical expenses provision of the Pennsylvania workers' compensation coverage. Medical expenses coverage is extensive and includes hospital and doctor care, medical devices, prescription medications, modifications that need to be made to an automobile to accommodate the injury, and more. There are no time restrictions or monetary restrictions on the payment of medical expenses for an injury or illness.
Travel expenses: If the treatment for your workplace injury or illness takes you outside of the area that you live, you will qualify for travel expense reimbursement as part of your workers' compensation. If you cannot get to your medical treatment on your own, the insurance carrier will provide you with transportation to and from wherever an independent medical examination may need to occur.
Temporary total disability (TTD) benefits: Temporary total disability benefits are to be paid to a person who is unable to work as a result of their injury. The benefits equal two-thirds of the lost wages. If their injury keeps them away from work for 104 weeks (two years), the employer's insurance carrier can require the injury victim to undergo an Impairment Rating Evaluation (IRE). After this evaluation, the insurance carrier will consider you to be partially disabled if you have less than 50% "whole body impairment."
Partial disability benefits: Partial disability benefits will start if the IRE determines that you are partially disabled or if the insurance carrier's physician determines that you are able to return to light-duty work. This indicates that you may not have completely recovered, but you are able to earn some wages. If any new position you return to pays less than the job you were doing at the time you were injured, you will be entitled to receive two-thirds of the pay difference between the average weekly wage of your previous job and your new job's wage.
Specific loss benefits: If your workplace injury involves the loss of a body part, the loss of vision or hearing, or if you suffered from permanent or serious disfigurement to your face, head, or neck, you will be entitled to specific loss benefits. This benefit is equal to the number of your TTD benefits during a specific time period of the healing process.
Death benefits: In the event a person dies due to a work injury, their heirs will be eligible for various death benefits as part of the workers' compensation coverage. This payment must be made within 300 weeks from the time of the injury or exposure and includes a total of $3000 in funeral expense reimbursement. Additionally, death benefits will be paid to a surviving spouse and calculated using the worker's pre-death weekly wage. Spouses are to receive 51% of the worker's weekly salary, though a widower with dependents is allowed to receive more. Benefits will be paid for a specified amount of time, and an attorney will guide you through this process.
Success Rate is Low for Unrepresented Workers
Unfortunately, prevailing on a Workers' Compensation claim is far from straightforward. Even the Pennsylvania Department of Labor & Industry recommends that injured employees seek legal representation. Employers and their insurance carriers often vigorously contest not only requests for Workers' Compensation benefits but also requests for vocational rehabilitation when it becomes clear that a worker will never be able to fulfill their previous job duties. Additionally, an employee who secures benefits may later be challenged to return to work before they are able.
Call to Learn About Types of Workers' Compensation Benefits in Philadelphia
Enlist the services of our team to have a better understanding of what types of worker's compensation benefits in Philadelphia you may be eligible to receive. Call today to get started.