Philadelphia Workers' Compensation Death Benefits
Philadelphia workers' compensation death benefits are available to the surviving spouse, child, or other dependent family members of a worker that is fatally injured in a work-related accident or illness. It is always advisable to consult with an experienced lawyer if you believe you are entitled to your loved one's benefits. The laws vary from state to state, and an experienced attorney from Gross & Kenny, LLP will ensure that your rights are protected so you receive the maximum benefit available.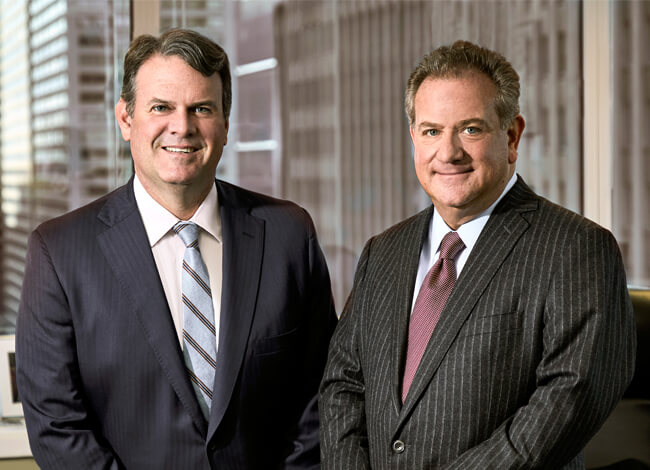 Watch our video to learnmore about our firm
Eligible Family Members
In Bustleton, South Philadelphia, and across the state, workers' compensation pays the family of an eligible worker a $3,000 funeral expense benefit. It also provides the surviving spouse and children under the age of 18 with a percentage of the deceased worker's salary. The surviving spouse can continue to receive death benefits until he or she remarries. Even when remarriage occurs, the spouse is still entitled to two additional years of benefits. This final settlement is usually paid in one lump sum that totals 104 weeks of compensation.
Death benefits to a deceased worker's spouse are calculated using the worker's pre-death weekly wage. Spouses receive 51 percent of the worker's weekly salary. This benefit percentage increases when there are dependent children still living with their spouses. A widow or widower with one dependent child receives a 60 percent benefit while a spouse with two or more dependent children would receive a benefit close to 67 percent of the worker's average salary.
In Philadelphia, children are eligible for workers' compensation death benefits until they reach the age of 18 years. If the child is dependent upon the deceased worker because of a disability, then that child can continue to receive benefits until the disability ends. Children who are enrolled full-time in an accredited college, university, or trade school may also continue benefits until 23 years of age.
If the deceased worker had no children or spouse, family members who were dependent upon the deceased may also be eligible to receive workers' compensation death benefits. Partially dependent parents are eligible to receive 32 percent of the worker's wages at the time of death, while two totally dependent parents can receive a 52 percent benefit. Dependent brothers or sisters of the deceased that were partially or totally dependent on the worker can receive a benefit of 22-32 percent.
Invalidation of a Death Benefit
When we are discussing timeframes for workers' compensation death benefits in Philadelphia, we have to look away from the traditional wrongful death statute of limitations. In non-work-related death cases, wrongful death claims must be filed within two years from the date of death. Work Injury and death cases operate on different timeframes under the law in Pennsylvania.
In Philadelphia, workers' compensation death benefits can be invalidated or denied under certain circumstances. For the worker to be eligible for death benefits, the injury or illness has to be work-related. Even if the injury or illness did not cause immediate death, the worker is required to have passed away within 300 weeks of sustaining the workplace injury.
We also have to examine the work injury reporting deadline. This is particularly important if a person sustained a workplace injury and survived for some time before succumbing. All workers have to report workplace injuries or illnesses to their employer within 20 days in order to receive retroactive benefits, but they can also report the work injury within 120 days from the incident in order to receive benefits (though they will not receive retroactive benefits). Failing to report a workplace injury within 120 days will likely result in the worker being unable to recover the compensation they need.
The spouse or family of an employee who passes away on the job because they were involved in an accident that occurred while they were under the influence of alcohol or drugs will not be eligible for death benefits. If the employee passed away after they intentionally harmed themselves, benefits will be invalidated. In the event the worker committed suicide due to a work-related mental illness, the case has a chance to be approved for benefits barring the family can prove this fact.
Filing for Pennsylvania Workers' Compensation Death Benefits
If you or a loved one believes you are entitled to Philadelphia workers' compensation death benefits, you need to first file a fatal claim petition. There are very strict filing requirements and deadlines to be met when petitioning for death benefits.
What Needs to be Proven?
If a death occurs in the workplace and the cause of death is not in dispute, we still caution dependents about the need to work with an attorney in these cases. It is not uncommon for employers or workers' compensation insurance carriers to put up a fight when paying out death benefits (or any type of workers' compensation benefits).
An attorney can get involved in the situation and use their resources to gather various types of evidence to prove what happened. This can include gathering statements from eyewitnesses, video and photo surveillance, workplace safety documents, and more. The goal will be to ensure that employers or insurance carriers cannot come back at a later date and say that the incident was not work-related.
If a death that occurred in the workplace is not immediately recognized as related to job duties, the dependents of the deceased and their attorney will have to prove two things:
That they are indeed the dependents of the employee who passed
That the death was work-related
Here, the challenging part will be proving that the fatal accident was the result of a work-related incident. This is particularly true for incidents that do not have an obvious cause. For example, there are times when employees are injured or become ill due to exposure the toxic chemicals or harmful substances. In some cases, this exposure will not cause any immediate signs or symptoms that could lead to significant long-term health consequences.
For example, if a Bustleton worker is exposed to asbestos, they may not develop various types of occupational cancers (including mesothelioma) for years after exposure. Additionally, the long-term health consequences of some workplace environments can lead to cardiovascular diseases, respiratory diseases, and other possibly fatal illnesses.
A skilled Philadelphia workers' compensation death benefits attorney can put together the proof of the accident or illness and have a case ready to present to all parties involved.
Call Gross & Kenny, LLP Today to Discuss Philadelphia Workers' Compensation Death Benefits
If you are the surviving spouse or family member of a worker that has been fatally injured due to a work-related injury or illness, you may be entitled to Philadelphia workers' compensation death benefits. Call the experienced Pennsylvania workers' compensation lawyers at the Philadelphia office of Gross & Kenny, LLP, to schedule a consultation today. We proudly serve the surrounding areas of Bustleton and South Philadelphia as well.