Third-Party Work Injury Claims in Philadelphia
A third party is someone else besides the employee and employer. If an employee was injured by a member of a construction company, for example, that member would be considered a third party. If a worker was injured by a defective product while on the job, the manufacturing company that created the product can be considered a third party. When a worker is injured on the job, a worker has the ability to pursue a third-party work in jury claim in Philadelphia while collecting workers' compensation benefits.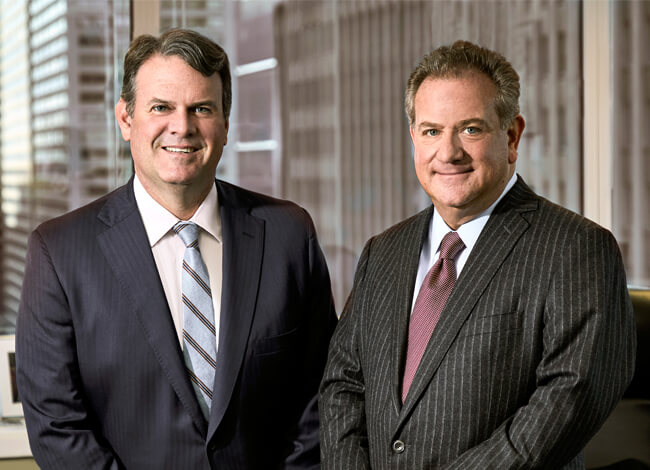 Watch our video to learnmore about our firm
When a person is injured at work due to the negligence of an individual or corporation other than his or her employer or a co-worker, the injured South Philly worker can file a claim for workers' compensation benefits and also file a third-party work injury claim to recover damages from the negligent party for pain and suffering.
For more than two decades, our attorneys have been dedicated to protecting the rights of injured workers.
We handle third-party claims as well as subrogation claims stemming from:
Car accidents
Defective equipment
Pedestrian accidents
Truck accidents
Unsafe premises
The Process of Subrogation
Subrogation is a legal right that protects both the insurance company and the insured person from being held liable for damages caused by another party. The process of subrogation revolves around three parties: the insurance company, the insured person or party, and the person or party responsible for the damages. The process begins when the insurance company pays out the losses of the insured person's claim. When the insured person receives the amount of money from their third-party work injury claim, the Philadelphia insurance company then can start the process of collecting the amount of the claim from the liable person or party that is responsible for the damages.
Pennsylvania Subrogation Claims Lawyers
When a third-party personal injury claim is successful in South Philly, the workers' compensation insurance company has the right to subrogate or get money back, from the third-party settlement or verdict. We assist in negotiating the subrogation or lien so that our clients get more money in their pockets.
Our firm routinely handles subrogation issues involving this complex area of the law where personal injury law and workers' compensation law intersect. Our experience enables us to be adept at negotiating and maximizing the client's return on both personal injury and workers' compensation claims. In addition, our lawyers are available to serve as co-counsel in personal injury cases for assistance in reducing or eliminating the subrogation claims asserted by the workers' compensation carriers. Many law firms that handle third-party lawsuits exclusively turn to us to help their clients negotiate a maximum recovery for both workers' compensation and third-party settlements based on our experience with subrogation.
Types of Third Party Claims in Work Injury Cases
Employees across the state including South Philly and Bustleton can file third-party claims for injuries that are not typically covered under the workers' compensation benefits. Being able to file third-party claims for these types of injuries allows employees to obtain even more compensation should the other party be held liable. These types of claims include claims for pain and suffering, emotional distress, and any other incidental expenses that were related to the damages.
Are There Benefits To Filing Third-party Claims?
In the vast majority of work injury claims, the injured employee is prohibited from filing personal injury lawsuits against their employer due to an incident that occurs in the workplace. That is because they receive automatic protection under the Pennsylvania workers' compensation law. Workers' comp protects both the employee and the employer.
As we reviewed above, there is a range of incidents that can occur that lead to an injury caused by a party other than the employer. However, a traditional workers' compensation claim does limit the types of compensation that an injury victim can receive. For example, injury victims who receive payment through the workers' compensation system are not entitled to receive any compensation for emotional distress or pain and suffering. However, if a South Philly injury victim is successful in bringing a third-party claim, they could be entitled to a range of non-economic compensation, including coverage of pain and suffering, loss of enjoyment of life, emotional and psychological distress, and more.
Proving A Third-party Claim
When an injured worker files a workers' compensation claim, they will generally be able to recover compensation regardless of who caused their injury. Even a worker whose own negligence led to their work injury is usually going to be able to recover coverage through workers' compensation in Pennsylvania.
However, when filing a third-party claim after a workplace injury in Bustleton, the injury victim will have to prove that the third-party's negligent conduct caused the injury. This can be a difficult process. The injury victim will need to establish that the third-party:
Owed them a duty of care
Breached the duty of care
Caused the injury
Caused monetary losses
In other words, a third-party work injury claim essentially turns into a traditional personal injury lawsuit. It is crucial that a work injury victim seek assistance from a skilled attorney who can help them investigate the incident, determine liability, and pursue maximum compensation.
Burden of Proof in Third Party Claims
Third-party claims in Philadelphia are different from workers' compensation claims in determining negligence before receiving compensation. With workers' compensation claims, employees do not have to prove the employer's negligence in order to receive benefits. Third-party claims, on the other hand, require injured workers to prove that the other party was negligent in order to receive additional compensation. In many cases, the worker has to provide evidence that the third party created circumstances that caused the worker's injuries.
Statute of Limitations
A statute of limitations is a law that places a time limit on how long a person has to file a legal claim against another party. With personal injury claims, the statute of limitations limits how long a person has to hold the person who caused their accident liable for their negligence. When a person fails to file a claim in a certain amount of time, they will not be able to do so regardless of how severe the injury is.
Time Limit To Filing Third-party Claims In Pennsylvania
Any person considering filing a third-party claim after sustaining a workplace injury or illness in Philadelphia, Bustleton, or South Philly, needs to know that the deadline for filing a claim is a little bit different than the deadline for a workers' compensation claim. In Pennsylvania, a person is required to notify their employer within 120 days of their workplace injury or illness, but they still have three years from the date of their injury to file the actual claim, according to the Pennsylvania workers' compensation Act.
However, the statute of limitations for third-party claims is two years from the date the injury occurs, which is the Pennsylvania personal injury statute of limitations. It is crucial for any work injury victim to ensure that they file their respective claims on time. Failing to do so could result in the victim being unable to recover any compensation at all.
Holding Negligent Third Parties Accountable
If an injured worker has received workers' compensation benefits and the injured worker goes on to obtain a recovery (either a settlement or an award at trial) from the negligent third party, the employer's workers' compensation insurance company can make a subrogation claim against any third-party award or settlement the worker receives.
This means that the employer and/or workers' compensation insurance carrier can seek reimbursement for the workers' compensation benefits they have paid out on the employee's behalf.
Let Us Help You File a Philadelphia Third-Party Work Injury Claim
Don't let the negligence of someone else cost you hard-earned money. You have the right to hold someone else accountable for their actions. Gross & Kenny, LLP, will fight to protect your rights so you can focus on getting back to a normal life. All workers' compensation and third-party work injury claims in Philadelphia are handled on a contingent basis. Contact us online or call today for a free consultation.