Statute of Limitations in Philadelphia Workers' Compensation Claims
If you have been injured at work in Philadelphia, you may be entitled to Workers' Compensation benefits. Pennsylvania law requires virtually all employers to purchase Workers' Compensation through either a properly licensed insurance carrier or the State Workers' Insurance Fund. Ideally, Workers' Compensation benefits serve to ensure injured workers are financially compensated for such losses as their medical bills and related economic losses after being harmed in workplace accidents.
However, trusting your employer to compensate you for an on-the-job injury can be a big mistake. Employers may be reluctant to report workplace accidents to avoid increases in their insurance premiums. Additionally, insurance companies often strive to avoid paying claimants the compensation for which they may be eligible by searching for reasons to deny claims or offer unreasonably low settlements. These delays may put you at risk for failing to meet the statute of limitations in Philadelphia workers' compensation claims.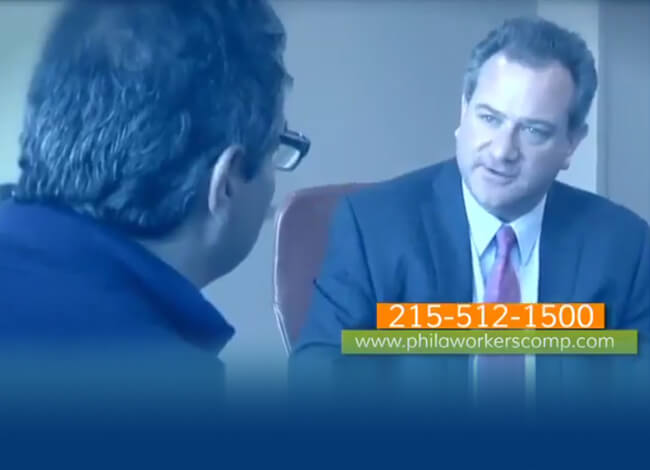 Watch our video to learnmore about our firm
Those are just two reasons it is critical to obtain quality legal representation from a Philadelphia Workers' Compensation attorney as early as possible after your injury. Another reason is to ensure that you are in compliance with Pennsylvania's Workers' Compensation statute of limitations. If you don't take action by a deadline established under the Statute of Limitations, you may jeopardize both your claim and your family's financial future.
The statute of limitations is the length of time an injured party has to formally file a Workers' Compensation claim in Philadelphia including South Philly and Bustleton. In Pennsylvania, the limitations period prohibits claims brought more than three years from the date of injury. In other words, if you have been injured on the job and denied medical benefits or lost wages, you must file a Claim Petition within three years of the date you were injured, or forfeit your chance to recover benefits. This is why if you are injured, you should seek medical treatment and notify your employer immediately.
It is vital that you seek medical attention if you are involved in an on-the-job accident even if you do not suspect you have been seriously injured. Some injuries are not immediately noticeable. Seeing a doctor right away after your accident will ensure any unnoticed injuries are addressed early before they develop into more significant problems.
Receiving immediate medical care can also improve your odds of recovering compensation. The sooner you take action, the less you have to worry about Pennsylvania's Workers' Compensation statute of limitations expiring before you have the chance to file a claim.
Additionally, if you fail to see a doctor in the immediate aftermath of your accident, but signs of an injury develop later, an insurer could deny your claim by arguing that there's insufficient evidence linking your injury to your workplace accident. Guard against this common tactic by getting medical attention after the incident regardless of whether you think you have been harmed.
Steps to Take After a Workplace Accident
Along with reporting your accident to your supervisor (or the most senior member of the company available at the time of your accident) and seeing a doctor as soon as you can, you should also strengthen your potential case by:
Identifying any witnesses;
Taking pictures of the conditions at the scene of the accident;
Taking pictures of any visual signs of injury to yourself;
Drafting a basic narrative of the incident.
If the option is available, you might even request that the doctor checking you for signs of injury perform a blood test to check for the presence of drugs or alcohol in your system. An insurer reluctant to offer a fair settlement might attempt to deny your claim by arguing your accident occurred because you were intoxicated. Having evidence to counter such arguments certainly will not hurt your case.
Occupational Hearing Loss
In addition to the general statute of limitations, there are many special rules that apply to specific types of injuries after a workplace accident in South Philly. For instance, if you suffer from occupational hearing loss as a result of long-term exposure to hazardous noise levels, you may bring a claim within three years of the last day you were exposed to excessive volumes at work. Occupational hearing loss can also occur as a result of exposure to a sudden, intense burst of noise. The relevant statute of limitations depends on the specific nature of your work-related injury.
This is one of many reasons it is wise to consult with an attorney before filing a claim. Discussing your case with a professional well-versed in the relevant laws and statutes can help you better understand what your options are after an on-the-job accident.
Occupational Exposure
If you have been injured as a result of exposure to dangerous chemicals or toxins, you may be entitled to compensation. Workers who were exposed to the following have filed successful Workers' Compensation claims:
Chemicals
Dust
Fumes
Lead
Mold
For occupational exposure injuries, the disability period must begin within 300 weeks, roughly six years, from the last day you were exposed to the hazardous chemical.
Exceptions to the Statute of Limitations
Employees who have been given some sort of payment or benefits "in lieu of compensation" have three years from the date the last payment was made within which to file a claim.
Additionally, if your employer has paid your medical expenses related to a work injury, the three-year limitations period may be tolled during the time payments were made, as long as your employer intended to satisfy their obligation under Pennsylvania's Workers' Compensation law.
With certain types of injuries, if an employer or their insurance carrier misrepresents that a claim has been approved, the three year limitations period will not begin running until the injured Bustleton worker realizes (or through the exercise of reasonable diligence should have realized) that they were injured, and that the injury was work-related.
Reach Out About the Philadelphia Statute of Limitations for a Workers' Comp Claim
To learn more about the statute of limitations in Philadelphia workers' compensation claims, call our team today.