Philadelphia Workplace Slip and Fall Lawyer
A workplace accident that involves a fall often results in injuries that require medical intervention and time away from work to recover. Workers' Compensation benefits are available to injured workers to cover lost wages, emergency room visits, hospital and surgical costs, doctor visits, prescription medications, and physical and cognitive therapy. Falls from high places fall down a flight of stairs, slippery or uneven floor surfaces, and falls from ladders are just a few of the examples of workplace accidents that can result in serious, and sometimes fatal injuries. Contact Gross & Kenny, LLP today to discuss your slip and fall incident with a seasoned Philadelphia workplace slip and fall lawyer.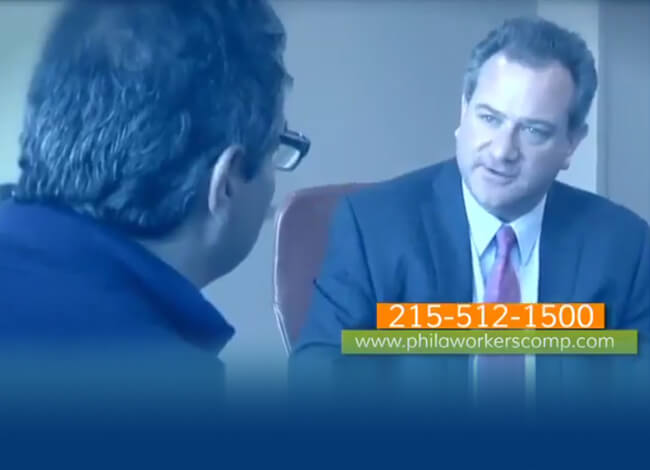 Watch our video to learn more about our firm
The experienced Philadelphia workplace slip and fall attorneys of Gross & Kenny, LLP, have been helping injured workers claim Workers' Compensation benefits for over 25 years. Their knowledge of Pennsylvania Workers' Compensation laws has helped countless clients claim the maximum compensation available to help them, allowing them to focus on their recovery without the added stress from the financial burden placed on their family.
Can I Sue My Employer?
Sometimes slip-and-fall accidents are caused by negligent property conditions, such as wet or slippery floors, spills, loose carpeting, uneven steps, or other defects. While employers are generally protected from being sued by employees for injuries, third-parties are not. Examples of third parties in slip-and-fall accident cases include property owners (if different from the employer) and contractors responsible for maintaining the property.
Types of Falls and Injuries
Construction workers are the leading group of workers most likely to suffer a serious injury from falling. Improperly installed or maintained scaffolding or ladders, open walkways that are often narrow, and unprotected openings or holes in flooring are the most common causes of falls in the construction industry. Bustleton construction workers are frequently working high off the ground, which causes catastrophic injuries when they fall. Bone fractures, head, and spinal injuries, cuts and lacerations, and internal injuries are common in construction falls.
The manufacturing industry is another high-risk environment for workplace accidents involving falls. Workers that leave tools scattered around their workspace, electrical cords running across walkways, and spills or leaking pipes that leave slippery surfaces are just some of the common dangers that lead to falls. Workers can suffer severe and often life-threatening injuries when unnecessary hazards such as these are present.
South Philadelphia workers in other seemingly low-risk occupations also face the threat of serious injury or fatality from a workplace fall. Restaurant and retail workers often slip and fall on wet floors, leaving them with broken bones, spinal injuries, or concussions, and traumatic brain injuries. Poor lighting on stairs and in parking lots and broken handrails can lead to serious injury as workers tumble down a flight of stairs or fall into potholes or over wheel stops in parking lots.
Poor weather conditions can endanger workers in all industries. Icy sidewalks or debris from trees littering walkways after a storm are common fall risks. Workers who slip and fall on these hard surfaces can suffer hand, arm, ankle, and leg injuries, and often sustain head and back injuries. Office workers are prone to serious falls when aisles and workspaces are littered with boxes and other office supplies. When workers fall in these often tightly confined and crowded spaces, the risk of serious injury increases as they hit desk corners, metal chairs, and computer equipment.
Claiming Workers' Compensation Benefits from Fall Related Injuries
A common misconception among workers is that a fall results from their own carelessness or fault and is therefore not a work-related injury entitled to Workers' Compensation benefits. As long as the injuries from the fall occurred during the course of the worker performing their job duties, Workers' Compensation benefits will apply. Pennsylvania workers that are injured on the job are not required to prove employer negligence or carelessness.
Anytime a worker is injured on the job, whether it be from a fall or other type of accident, the incident must be reported to the employer. After the employee's injuries are stabilized, pictures of the area where the accident occurred are vital evidence to dispute a claim that is denied. Medical interventions should be documented, including emergency room visits, surgeries, doctor visits, therapy sessions, and prescription medication costs. Workers' Compensation benefits will pay or reimburse the victim for these charges.
Though many workers may feel it is not necessary to contact a Workers' Compensation lawyer when they are injured on the job, a competent Workers' Compensation lawyer can review the details of your case to ensure you are receiving the maximum benefits available to you.
Get Help From a Philadelphia Workplace Slip and Fall Attorney
If you have been injured in a workplace accident, the experienced Philadelphia Workplace Slip and Fall Lawyers of Gross & Kenny, LLP, can help ensure you claim the maximum amount of compensation available to you. Call us to schedule a consultation today. Our offices are conveniently located in Center City Philadelphia, meaning we can help injured workers throughout the surrounding areas of Bustleton and South Philadelphia.