Workplace Knee Injuries in Philadelphia
The knee is one of the most overworked joints in the human body. It is unsurprising then that millions of Americans seek medical treatment for knee pain each year. Fortunately, many workplace knee injuries in Philadelphia are compensable. When a preexisting knee condition is made worse over time by work-related duties or an acute knee injury occurs on the job, an injured worker will often be entitled to workers' compensation benefits.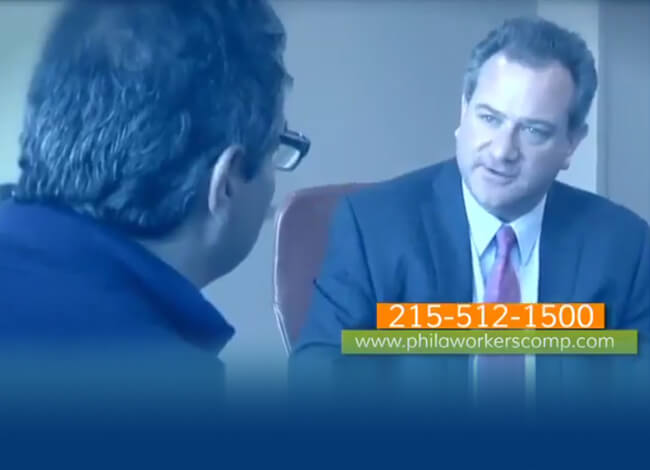 Watch our video to learnmore about our firm
Workers at Higher Risk of Knee Injury
Construction workers: A series of studies that looked at nearly 1 million workers found that floor installers, bricklayers, and carpenters were three times as likely to develop arthritis of the knee than workers who were employed in sedentary positions. Knee sprains and strains can easily result from carrying heavy loads over the uneven terrain of a construction site. Other injuries can stem from prolonged kneeling or stooping. Construction workers should elevate their work surface whenever possible and use tool extenders to avoid repeated bending at the knees. The use of knee pads can also reduce wear and tear.
Nurses: The act of lifting and moving patients – particularly those who are obese – can cause knees to buckle. Nurses face the additional strain of too much time spent on their feet. A nurse walks an average of four to five miles during a standard 12-hour shift, according to one 2006 study.
Truck drivers: Commercial truck drivers frequently suffer from patellar tendonitis, an inflammation of the tendon connecting the kneecap to the shin bone, because of the repeated motion associated with operating a clutch and gas pedals. Industry experts say that the act of jumping into and out of the truck bed can also strain the tendon to such an extent that patellar tendonitis results.
Other occupations that are hard on the knees, according to researchers, include jobs in agriculture, housekeeping, service jobs, and mining. Moreover, jobs that require excessive climbing, lifting, standing, squatting, and kneeling come with an increased risk of knee injuries. If you have sustained a workplace knee injury in Philadelphia, Bustleton, or South Philadelphia, contact our firm today.
Understanding the Range of Knee Injuries
In addition to injuries that happen in higher-risk occupations, a variety of other workplace knee injuries can form the basis of a successful workers' compensation claim in Philadelphia, regardless of profession. Partial or complete tears of the meniscus occur when the knee is forcefully twisted, and lead to pain and swelling as well as knee instability. Tears to the anterior cruciate ligament (ACL), medial collateral ligament (MCL), or posterior cruciate ligament (PCL) can also be partial or complete but will present with considerably more pain and a far longer recovery time than injuries to the meniscus. To that end, an ACL tear will almost always require surgery and can lead to weeks and months of missed work.
Similarly, the cartilage disorder chondromalacia patella – a softening of the kneecap cartilage, caused by overuse – can require arthroscopic or realignment surgery. Any worker who spends much of their day walking or climbing stairs is at an increased risk of suffering from chondromalacia. Moreover, certain individuals with natural anatomic variations of the knee are also more likely to develop chondromalacia than others.
It is important to note that Bustleton workers suffering from preexisting knee disorders that are aggravated by their current job duties are no less entitled to workers' compensation benefits than those suffering from acute knee injuries. Anytime an employee is injured on the job or their preexisting knee injury is exacerbated by work conditions, it can form the basis of a successful workers' compensation claim. A worker seeking treatment for a knee injury should take notes about all doctors' appointments, physical therapy, and imaging studies ordered. The insurer will likely require such documentation before issuing an approval or denial of benefits.
Work-Related Arthritis
It is not uncommon for a workers' compensation claim to be initially denied due to a claimant's preexisting condition, including pre-existing arthritis, which can affect the knees. Nonetheless, aggravation of preexisting arthritic conditions of the knees due to work-related accidents are considered new injuries under workers' compensation guidelines.
In this type of workers' compensation claim, careful preparation of the worker's claim is necessary. A Philadelphia workers' comp attorney must consult with both the claimant and medical professionals treating the injury to show that a workplace incident caused pre-existing arthritis to worsen and/or that work conditions caused an anatomical change in the claimant's arthritic condition. It is sometimes also shown that an asymptomatic arthritic condition was exacerbated by a work injury.
Compensable Knee Injuries
If your knee is injured or your knee injury is made worse due to your job duties, it is important that you seek out compensation right away. It is possible that you will need not just proper treatment for your knee injury, but you may also need one or more surgeries and physical therapy. Your knee injury may cause you to be unable to work for a substantial period of time. Workers' compensation can help you provide for your family and yourself until you recover.
Your compensation during treatment is based on your average pay. However, if your Philadelphia workplace knee injury never heals fully, then you may be eligible for a lump sum settlement from workers compensation. A permanent injury settlement, which is usually a percentage of your wages during the period of time that you were being treated for your injury and extra weeks of pay to compensate for your permanent disability. Medical costs are also included.
The settlement you receive is based on several factors, including the severity of your injury and any lingering disabilities that result from your injury.
Philadelphia Workers' Compensation Lawyers of Gross & Kenny, LLP Assist Workers Recovering from Knee Injuries
If you suffered a knee injury in the course of your employment, the Philadelphia workers' compensation lawyers of Gross & Kenny, LLP, will assist in all aspects of your workers' compensation claim. Contact us at 215-512-1500, or complete our online questionnaire to schedule a free initial consultation at our Philadelphia offices, where we proudly serve injured employees throughout Pennsylvania.