Philadelphia Workplace Catastrophic Injury Lawyer
A traumatic injury is anything that not only renders a worker incapable of performing his or her duties but drastically affects and limits their personal life as well. While all workplace injuries affect the home lives of workers, traumatic injuries stand apart in their severity, oftentimes resulting in loss of life or traumatic brain injury. For this reason, it is usually the family members of the affected party who seek benefits on their loved one's behalf. If you or a loved one was injured at work in Pennsylvania, you are urged to contact one of our Philadelphia workplace catastrophic injury lawyers who can ensure that your benefits will be granted. At Gross & Kenny, LLP, we counsel workers who have suffered from: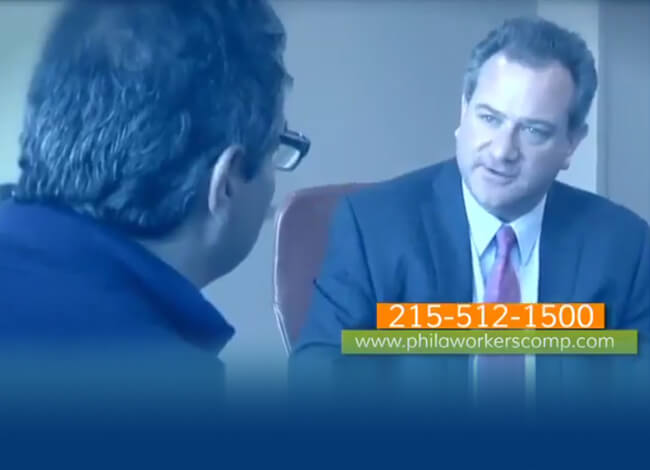 Watch our video to learn more about our firm
Amputations
Burns and electrocution
Paralysis-inducing injuries
Toxic exposure
Bustleton and South Philadelphia workers who have been affected by these or any other debilitating injuries may be eligible for benefits through workers' compensation. Work injury benefits will help to cover the cost of medical treatment and rehabilitation. Oftentimes, these can be quite extensive when a catastrophic work injury occurs. Moreover, a worker who undergoes a traumatic workplace accident will most likely be unable to work for an extended period of time. In some cases, a worker may be completely disabled and unable to work permanently. Workers' compensation benefits also provide injured workers with income loss benefits. Contact a Philadelphia workplace catastrophic injury attorney from our firm to learn more.
The Importance of Hiring a Qualified Philadelphia Catastrophic Work Injury Attorney
It is always wise to enlist the help of a workers' compensation attorney when seeking workers' compensation benefits. Victims in these circumstances often don't realize that their employers or the insurance carriers responsible for compensating them may not be inclined to pay them what they are owed.
An employer might hope that a worker's claim can be successfully denied to guard against rising insurance premiums. A workers' compensation insurance company will look for reasons to deny a claim or offer less than a claimant may deserve to minimize their financial losses.
For example, in Bustleton, an employee is eligible to recover workers' compensation benefits when they can show that they were injured in an accident that was genuinely work-related. An insurance carrier might justify denying their claim if the victim fails to provide enough evidence showing that they were injured on-the-job and not in an accident that occurred when they were technically off the clock.
The fact that an insurance company is arguing that a victim is not eligible to recover workers' compensation benefits does not mean the insurer is accurately or truthfully representing the nature of the accident. When this happens, a claimant needs assistance from a lawyer who can investigate their accident and gather evidence showing that the victim truly was operating as an employee when they were harmed.
It's particularly vital for workers who have sustained catastrophic injuries to hire Philadelphia attorneys who have experience representing clients like them. The following points will help you better understand why:
A Catastrophic Injury Lawyer Knows How to Account for All Compensable Losses
A Philadelphia workplace catastrophic injury attorney can simplify the claim process for an injured worker by helping them calculate how much money they may be eligible to recover based on the extent of their injuries and losses. That said, this process can be uniquely challenging when a worker's injuries are catastrophic.
Calculating how much money a claimant may be entitled to if they only sustained a minor injury generally involves adding up the cost of their medical treatment and determining how much they are owed in lost wages. Most reputable workers' compensation attorneys are able to handle this task.
However, when someone has sustained catastrophic injuries, it may be necessary not only to account for past and current losses, but also future losses if they are rendered completely unable to work or require ongoing medical care. Completing this task with precision and accuracy requires specialized expertise that only an experienced catastrophic injury and workers' compensation attorney possesses.
Catastrophic Work Injury Cases May Involve Intense Negotiation
Again, because insurance companies are businesses, some degree of negotiation is common when victims file claims. It is not likely that an insurer will immediately offer all the compensation you are eligible for. You therefore need a Philadelphia workplace catastrophic injury attorney on your side to negotiate effectively.
The process of negotiating for a fair settlement is especially intensive in catastrophic injury cases. Although an ethical attorney cannot promise that you will recover a certain amount of money once your case is settled, when a victim's injuries are serious and life-changing, they are often owed a settlement that may be much greater than the typical workers' compensation settlement.
Insurers understand this. Thus, they may be more likely than usual to aggressively fight in an attempt to avoid paying a claimant the amount of money they are seeking.
Not all attorneys are prepared for such a fight. Remember this when deciding which law firm should serve you.
Get Help From a Philadelphia Workplace Catastrophic Injury Attorney
Insurance companies are very exacting in their approach to benefits, oftentimes denying valid workers' compensation claims. Inspectors and medical professionals sponsored by the insurance company will often not give an injured party the benefit of the doubt when it comes to claiming that an injury was work-related. You or your family members do not have to face insurance companies alone. Our apt, competent Philadelphia workplace catastrophic injury lawyers will see to it that your benefits are granted. We have a successful track record of appealing denied benefits, allowing injured parties to seek comfort after receiving a life-altering injury. If you have been hurt at work in Bustleton or South Philadelphia, call Gross & Kenny, LLP today.