Work-Related Carpal Tunnel Syndrome in Philadelphia
Carpal tunnel syndrome can make it impossible to perform your job without symptoms such as tingling, numbness, and sharp pains in your hand, wrist, and arm. Unfortunately, employers often refuse to pay workers' compensation benefits for repetitive stress injuries such as carpal tunnel syndrome or end those benefits before the worker's injury has healed.
Philadelphia work injury lawyers, Jeffrey S. Gross and Patrick W. Kenny have focused exclusively on representing injured Pennsylvania workers for more than 20 years. Call our firm today to discuss work-related carpal tunnel syndrome in Philadelphia.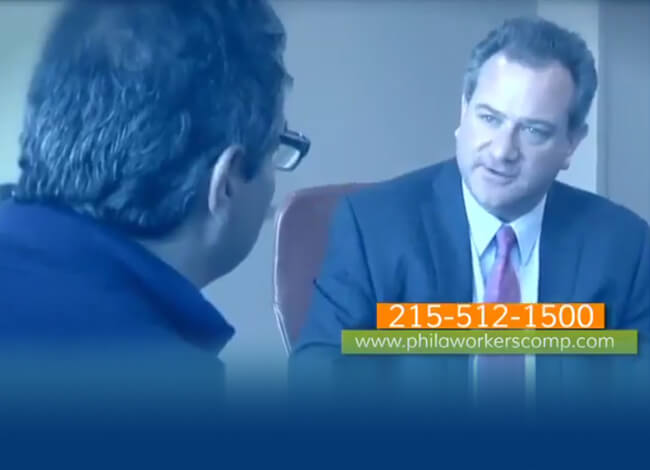 Watch our video to learnmore about our firm
Workers' Compensation and Carpal Tunnel Syndrome
Carpal tunnel syndrome may be caused or exacerbated by repetitive work activities such as typing or assembly line work. Even if the injury is due to a pre-existing condition, it is covered by workers' compensation if it was aggravated by your work activities.
Doctors often treat carpal tunnel syndrome conservatively. Initial treatment usually involves the use of anti-inflammatory drugs and resting the affected hand and wrist. If the condition does not improve, doctors may recommend surgery to remove pressure on the median nerve.
If you are in Philadlephia or the surrounding areas and suffer from work-related carpal tunnel syndrome, employers and workers' compensation insurance carriers may use a variety of tactics to avoid paying the benefits you deserve. For example, a Bustleton employer may claim:
You are not really injured
Your injury is not work-related
You are well enough to return to work
It often takes a lawyer's help to receive the benefits you deserve. It is important to discuss work-related carpal tunnel syndrome with a Philadelphia attorney as soon as you learn of your injury.
Philadelphia Carpal Tunnel Syndrome Attorneys Share Signs of Carpal Tunnel Syndrome You Need to Know
It is very important that you seek medical care right away when you have developed symptoms of carpal tunnel syndrome. Your condition may worsen if you do not receive the necessary treatment.
Seeing a doctor in a timely manner once you become aware of your condition can also play a major role in the outcome of a workers' compensation case. Your odds of securing the compensation you are owed may be greater if you can demonstrate that you sought treatment accordingly as soon as you realized you might need it.
Symptoms of carpal tunnel syndrome in South Philadelphia employees include:
Weakness when attempting to grip objects
Pain in one or both hands
Numbness in one or both hands
Fingers that feel swollen (although they may not necessarily appear swollen)
Tingling or burning sensations in the fingers
Sleep difficulties due to pain or numbness that may be worse at night than it is during the day
Don't delay if you notice any of these symptoms. Seeing a doctor sooner rather than later can help you avoid the need for surgery.
Work Tasks That May Cause Carpal Tunnel Syndrome
Some workers are more likely to develop carpal tunnel syndrome than others due to the nature of their work duties. Common work tasks that may increase one's chances of developing this condition include (but are not necessarily limited to) the following:
Typing
Working with vibrating tools, such as chainsaws
Working on an assembly line
Meat or fish packing
Those are just a few examples. The fact that you might not necessarily perform the types of work tasks listed above does not mean that you can't develop carpal tunnel syndrome as a result of work-related activities. If you developed this condition and you suspect that your work duties contributed to it, review your work-related carpal tunnel syndrome case with an attorney at our Philadelphia law firm.
How a Philadelphia Carpal Tunnel Syndrome Attorney Helps
If you are taking action to recover compensation after learning you have developed carpal tunnel syndrome, be aware that your odds of securing the full amount of compensation you deserve will be much greater if you have proper legal representation. Surveys consistently show that claimants who hire lawyers arrive at fair settlements more often than claimants who attempt to represent themselves in these circumstances.
Our Philadelphia work-related carpal tunnel syndrome law firm can help you by:
Coordinating with doctors and taking other steps necessary to gather documentation showing that you likely developed this condition due to work tasks
Reviewing the extent and severity of your losses/damages to determine how much compensation you may be eligible to recover
Allowing you to focus on your health needs while we handle all tasks involved in filing a claim
Negotiating with the insurance company on your behalf if your employer's workers' compensation insurance carrier refuses to offer a fair settlement
Carpal tunnel syndrome may cause significant discomfort. It can also interfere with your ability to perform your work tasks. However, with the help of both physicians and lawyers, you can minimize the negative impact this condition has on your life.
Call to Discuss Work-Related Carpal Tunnel Syndrome in Philadelphia
If you have questions about work-related carpal tunnel syndrome in Philadelphia and the benefits available to you under the Pennsylvania workers' compensation Act, call Gross & Kenny, LLP today. We proudly serve injured workers in Philadelphia and throughout the surrounding areas of Bustleton and South Philadlephia.