Machine Entanglements in Philadelphia
Machine entanglements in Philadelphia happen when machinery has moving parts and a worker is pulled into those moving parts, most often when loose clothing or hair gets caught. Caught in/between accidents are some of the most serious workplace accidents that happen in the workplace and can result in lacerations, severed fingers, amputations, crushed limbs, and scalping and de-gloving injuries. In severe cases, machine accidents may be fatal.
Any moving machinery presents a risk to the workers who operate it or work nearby. However, injuries from entanglement accidents are unnecessary and preventable. Employers must do everything in their power to ensure that safeguards for workers are in place and risks are eliminated.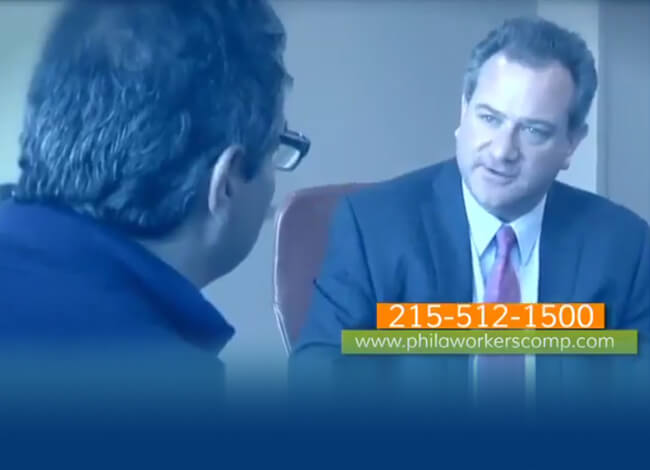 Watch our video to learnmore about our firm
Preventing Machine Entanglement
Moving parts of machinery can be categorized into specific places where workers are most at risk. They are pinch points, crush points, and wrap points.
Pinch points exist where two or more parts of the machinery are moving together and one of those is moving in a circle. A conveyor belt is a good example.
At crush points, two components are moving toward each other as in a hydraulic cylinder.
Wrap points consist of exposed rotating components and include lathes, augers, and other rotating equipment.
To protect South Philly and Bustleton workers from the danger of machine entanglement and prevent contact, safeguards must be fitted to these points on the machinery. The guards should fit properly and be free of sharp edges that could cause lacerations. If possible, the safeguard should not be easily removable to prevent tampering.
Training
The best safeguarding system will be rendered ineffective if workers are not thoroughly trained in how to use it and why. The Occupational Safety and Health Administration guidelines state that workers should receive specific and detailed training that includes the following:
An explanation of the hazards associated with a piece of equipment or machinery
The safeguards for that hazard, how they work to prevent accidents, and why they should be used
The circumstances under which the safeguards can be removed and by whom – usually only for repair and maintenance
What actions should be taken when a safeguard is missing, damaged, or otherwise unable to provide protection
Whenever any new safeguards are installed, new machinery is acquired, or Bustleton workers are assigned to a new task with unfamiliar machinery, this training should be repeated to lessen the risk of entanglement.
Other Protective Measures
Additional safety measures that should be in place include:
Dress codes – Workers should never wear loose-fitting clothes, chains, bracelets, rings, or other jewelry that can become entangled in machinery. Long hair must be tied back. Special care should be taken with protective clothing and equipment so that it does not create a hazard. For example, protective gloves or hi-visibility vests could potentially be pulled into moving equipment.
Emergency shut off systems – All workers dealing with moving machinery should be aware of and know how to operate the emergency shut off. Workers should be assigned in groups so that no worker is alone with machinery that poses an entanglement risk.
Warning signs – Adequate signage should be posted near hazardous machinery as a constant reminder for employees.
Regular inspection and maintenance of machinery and machine safeguarding systems – Only qualified personnel should do any adjustments or maintenance of equipment. Before such work is performed, the machine should be shut down with a lockout/tag-out system and allowances made for any stored energy and necessary run-down time.
For More Information, Contact A Machine Entanglement Attorney in Philadelphia Today!
Injuries from machine entanglements in Philadelphia can be serious and life-threatening requiring long hospital stays and expensive rehabilitation afterward. Workers who have suffered injuries in a work-related  accident are advised to seek the counsel of a qualified attorney to ensure they receive all the Workers' Compensation benefits available to them. Workers may be entitled to wage loss benefits and benefits for medical care including hospital treatment, prescription medications, and prostheses. Families who have lost a loved one may be eligible for death benefits. Contact our firm today to learn more and to begin reviewing the details of your claim.