Crane Accidents in Philadelphia
Cranes are a vital piece of equipment in many industries, including construction, shipping, and oil and gas. Because of its size, weight, and load-lifting capabilities, it is also an extremely dangerous machine that should only be operated by a highly-trained individual. According to the Occupational Safety and Health Administration (OSHA), almost 90 workers lose their lives each year in crane accidents. Others sustain serious injuries such as head and neck injuries, spinal cord injuries and paralysis, broken bones, loss of limbs from crushing injuries, and electrocution. Crane accidents in Philadelphia are a serious type of workplace accident, and require the skill of a workers' comp attorney to properly navigate.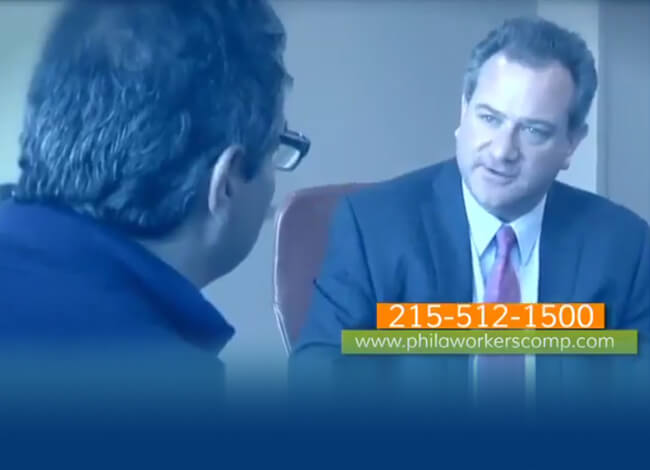 Watch our video to learnmore about our firm
Common Causes of Crane Accidents
Crane accidents in the South Philly and Bustleton areas can be caused by a number of things including:
Inadequate training of the operator – Crane operation is a highly-skilled job that requires a certification for certain types of cranes.
Crane tip over – Improperly loaded cranes can tip over as can crane erected on unstable platforms or ground that has not been leveled correctly.
Crane boom collapse – Extending the range of the crane boom beyond specifications is dangerous and can cause the boom to collapse onto workers below. The crane operator can also be injured during a collapse.
Electrocution – Almost 39 percent of crane accidents are caused by electrocution. Any part of the crane, such as booms, cables, or other parts that come in contact with live power wires can result in electrocution of the crane operator.
Fall accidents – Entering the crane often requires the operator to scale an extensive system of ladders, which presents a risk of falls. Wind and weather can only add to the danger. Safety equipment such as harnesses, safety belts, guardrails, and secured steps are the responsibility of the employer.
Crane load accidents – The area where the crane is operating should be barricaded to ensure no worker comes within reach of the swing radius of the crane and be struck by the crane load.
Crane assembly and disassembly – It is crucial to follow manufacturer specifications when assembling, disassembling, or operating a crane. Failure to do so can result in serious injury to workers.
There are many different types of cranes used across a variety of industries. All present their own set of risks. Tower cranes are for use at great heights where the wind is a safety issue. Crawler cranes are affixed to a set of tracks or crawlers that allow them to move loads weighing thousands of tons. They are extremely heavy and very dangerous if they overturn in an accident. Overhead cranes travel on an overhead fixed runway structure and are a risk for electrocution accidents, overloading, and materials falling or slipping from overhead hoists. Other types of cranes used in industrial settings include aerial cranes, railroad cranes, telescopic cranes, floating cranes, all-terrain cranes, and deck cranes.
Employer Responsibility in Crane Accident Prevention
OSHA has very clear regulations for crane operation. Today's cranes can lift more weight faster than ever before, requiring operators who are thoroughly familiar with load dynamics, lifting capacity at different configurations, and the conditions that make these capacities valid. Poorly trained crane operators will often try to rely on instinct or experience when determining if a load is too heavy.
Safety planning and preventative measures by employers are crucial to avoiding crane accidents. Cranes should never be operated near an unsafe work area and crane operators must be informed of where those areas are. OSHA outlines safe distances from power lines that must be adhered to when planning a worksite. Generally, this area should be within a 10-foot radius of a power line. Fences, insulated barriers, or other markings should clearly delineate this danger zone.
Regular maintenance is also a key part of crane safety. Cables must be replaced and all equipment related to crane operation must be regularly checked by employers to identify any hazards immediately.
Operation of the crane in accordance with the manufacturer's specifications regarding load capacity is another responsibility of the employer, as is the supervision of the assembly and disassembly of the crane. Should a defect be present in the manufacturing of any component of a crane on a South Philly or Bustleton work site, the company that made it could be liable for third party claims if an accident and injuries occur.
Let Our Firm Help if You were Injured in a Philadelphia Crane Accident
If you have been injured in a crane accident in Philadelphia, you may be eligible for Workers' Compensation benefits. At Gross & Kenny, LLP, we can help. Our practice focuses exclusively on helping injured workers and we will fight to obtain the maximum allowable compensation for your case. Call us today to speak with an experienced attorney.