Caught In/Between Accidents in Philadelphia
A caught-in/between accident happens when a worker is injured when he or she becomes caught in or between a moving object and a stationary one, or between two moving objects. Caught in/between accidents in Philadelphia are so dangerous that the Occupational Safety and Health Administration (OSHA) includes them as one of the aptly named "Fatal Four" categories of most dangerous workplace accidents. According to OSHA statistics, more than half of all worker fatalities in construction in 2015 were due to the Fatal Four. Constructions workers,  factory workers, and those in the agriculture industry are at the highest risk for this type of accident.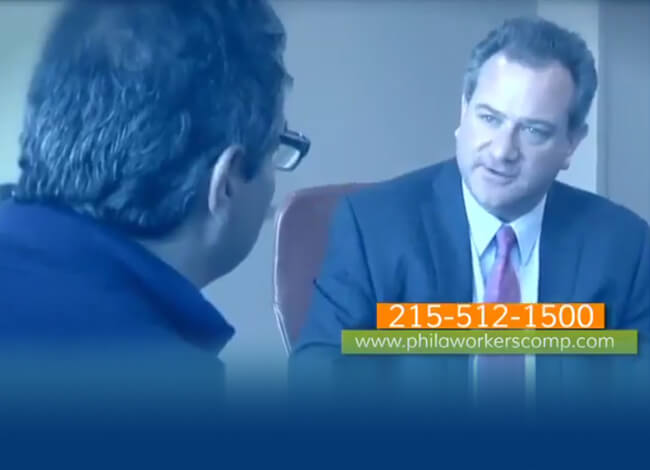 Watch our video to learnmore about our firm
Common Causes of Caught In/Between Accidents
Caught in/between accidents can happen when a vehicle or piece of equipment rolls over and pins a worker underneath, or when repairs are attempted on equipment that is still moving. During excavation work, trenches can collapse, burying the workers underneath. Other times, operators of forklifts, cranes, or lifts fail to see a worker in their pathway and the worker can be pinned or crushed. There are many causes of caught in/between accidents in South Philly and Bustleton. Some of the most common include:
Working on or around moving equipment
Loose clothing being pulled into moving equipment or machinery
Lack of safety guards on equipment or removal of guards
Lack of visibility to equipment operators
Inadequate soil preparation or shoring of trenches
Equipment with stored energy, or equipment that has not been properly de-energized
Injuries from caught in/between accidents are often serious or even fatal and can result in:
Scalpings
Head and neck injuries
Internal organ damage/internal bleeding
Severe bruising
Some injuries leave the victim in a state of chronic pain and long-term disability. Treatment for serious injuries can require extensive hospitalization and costly rehabilitation.
Preventing Caught In/Between Accidents
Fortunately, caught in/between accidents in Bustleton are almost always preventable. Employers have a responsibility to maintain a safe work environment and provide training for their employees on recognizing caught-in hazards and preventing accidents before they happen. Additionally, they should use the following practices to protect workers:
Equip all moving vehicles with back-up alarms and use flagging personnel if the worksite noise level is louder than the back-up signal
Provide safety guards for machinery and tools and keep all equipment in good working order
Make workers aware of vehicle traffic patterns and isolate hazards as much as possible by demarcating dangerous areas. Update this information as the worksite changes
Provide protection for workers during excavation and trenching work
Protect workers from the collapse of scaffolding
Protect workers from being injured by collapsing walls during demolition
Take precautions with heavy machinery that can tip over so that no workers can be crushed underneath
Support and secure equipment that workers could get caught between
If you have been injured in a caught-in/between accident in South Philly while on the job you may be eligible for Workers' Compensation benefits and should contact a qualified Philadelphia Workers' Compensation lawyer who can help you determine your legal options. Workers' Compensation can provide you with compensation for lost wages, medical care – including hospital treatment, prescription medicines, and prostheses, and compensation for the loss of specific body parts or serious disfigurement. Additionally, families who have lost a loved one are often eligible to receive death benefits.
Contact an Attorney for Help After a Philadelphia Caught In/ Between Accident
If you have suffered injuries in a caught in/between accident in Philadelphia, let us help you with your legal needs so that you can focus on your recovery. At Gross & Kenny, LLP, our attorneys know the Workers' Compensation system and can help you get the maximum allowable benefits for your case. Call us today for a free consultation or contact us online.