Types of Workplace Accidents in Philadelphia
If you are injured in a workplace accident, you are entitled to compensation under Pennsylvania's workers' compensation act regardless of who was at fault. Unfortunately, many employees don't receive all of the benefits they deserve because they are unfamiliar with the rules.
For more than 20 years, our experienced attorneys Jeffrey S. Gross and Patrick W. Kenny, have aggressively fought for the rights of injured workers in the area. If you have sustained an injury in an on-the-job accident, contact us today for a free initial consultation about your case. We handle all types of workplace accidents in Philadelphia.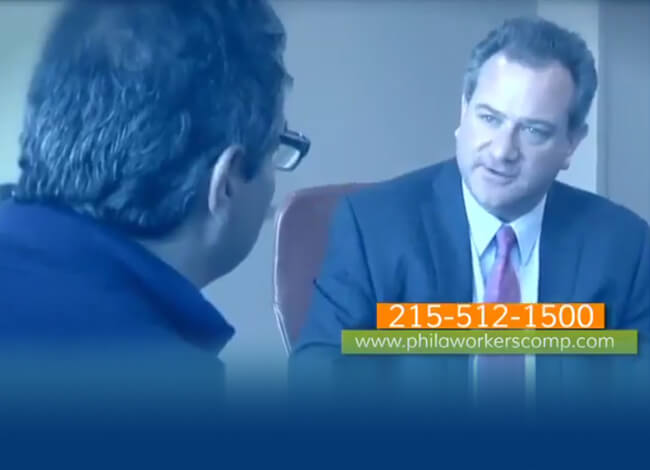 Watch our video to learnmore about our firm
What Types Of Work Accidents Are Covered By Workers' Compensation?
Any type of injury that occurs on the job is covered by workers' compensation. If you are injured, your employer is required to pay your medical bills and reimburse you for lost wages. The following are examples of the types of workplace accidents we frequently handle in South Philly:
Aviation Accidents: The ground crew, baggage handlers, mechanics, technicians, flight attendants, and pilots are just some of the many employees in the airline industry. These workers have risks for injury associated with the jobs they perform.
Building Collapse: A building collapse is a serious event that can result in devastating injuries or even fatalities.
Caught In/Between Accidents: A caught-in/between accident happens when a worker is injured when he or she becomes caught in or between a moving object and a stationary one, or between two moving objects.
Construction accidents: Few jobs are as dangerous as construction, where workers may work in hazardous settings and in close proximity to heavy equipment.
Conveyor belt accidents: The many moving parts and the machinery required to keep conveyor belts working present a risk to the workers using them.
Crane accidents: A crane is a very common, necessary piece of equipment that is used in many settings such as manufacturing plants, construction worksites, warehouses, airports, and retail stores. An accident involving a crane can lead to serious injuries or death. The most common causes of crane accidents include workers falling from a crane, negligent supervision, collapse or tipping of the crane, defective equipment, improper operation, and objects falling from a crane.
Electrical accidents: Accidents can occur in a setting where people work around or with electrical wiring. Electricians are not the only ones at risk. Construction workers, machine operators, roofers, carpenters, and cement workers may also be subjected to electrical hazards. Electrocutions can occur as a result of working on power lines, contact with overheated equipment, and improperly grounded wires.
Elevator accidents: Workers in various industries use elevators on a regular basis. Unfortunately, accidents can and do occur. Common causes of elevator accidents include door entrapment, sudden acceleration or deceleration, falls into elevator shaftways, and defective products.
Falls at work: A workplace accident that involves a fall often results in injuries that require medical intervention and time away from work to recover.
Fatal work accidents: We handle all types of claims for families who have lost a loved one in a fatal work accident including construction accidents, oil refinery accidents, and work-related motor vehicle accidents. You can expect the utmost compassion and sensitivity from our team during this difficult time. We will aggressively fight to hold all negligent parties accountable as well as to seek the maximum compensation for all that you have endured.
Forklift accidents: Forklift accidents are common in warehouses, construction sites, and settings where heavy items need to be lifted and transported. Forklift accidents can occur from negligent maintenance, defective parts, and an unsafe working environment.
Heavy equipment accidents: Many industries use heavy equipment such as excavators, bulldozers, backhoes, and front-end loaders, and cranes as part of their daily operations. Unfortunately, each year thousands of workers are injured in accidents related to the use of this equipment.
Industrial plant accidents: Industrial plant accidents can result in catastrophic injuries or even fatal effects for workers in the plant as well as residents in the surrounding communities. Examples of accidents occurring in industrial plants include chemical spills, machinery malfunctions, explosions, leaks, electrical failures, and fires.
Ladder accidents: Falling from a ladder can result in serious injury. Ladder accidents are among the most common causes of workplace injuries and death. These types of accidents can occur as a result of improper maintenance, uneven rungs, not being properly secured, or a product defect.
Machine entanglement: Machine entanglement accidents happen when machinery has moving parts and a worker is pulled into those moving parts, most often when loose clothing or hair gets caught
Machine injuries: Punch presses, conveyor belts, cutters, saws, and other machines can cause catastrophic injuries such as amputations. Workers injured in a machinery accident can rely on our skilled Philadelphia workers' compensation lawyers to help you seek fair compensation.
Manufacturing Accidents: Manufacturing requires operating large pieces of complicated equipment and heavy machinery, which exposes workers to risks of accidents if proper precautions are not taken. Manufacturing accidents can cause serious injuries and workers can also experience chemical exposure if the manufacturing plant contains hazardous materials.
Needlestick and sharps injuries: Healthcare workers, first responders, veterinarians, waste workers, and others may be accidentally stuck by a needle at work. This puts workers at high risk for any number of potentially deadly conditions, including diseases and fungal or bacterial infections.
Occupational exposure: Our firm handles all types of cases relating to occupational diseases resulting from exposure to toxins, chemicals, or other dangerous substances in the workplace. Examples are asbestos, benzene, communicable diseases, pesticides, and radiation. Some at-risk workers include health care professionals, nuclear power plant workers, miners, construction workers, and oil and gas company workers.
Occupational hazards: Every profession has its risks, but when injury or illness results from exposure to occupational hazards on the job, workers' compensation benefits can help injured employees take the time they need to heal without worrying about the financial impact of lost wages.
Office accidents: An office may not be viewed as the most dangerous place to work; however, there are risks associated with an office environment. Some of the more common accidents suffered by office workers include electric shocks, slip, and fall accidents, repetitive strain injuries, or carpal tunnel syndrome.
Power tool accidents: Power tools include any tools that use an energy source that is electric, pneumatic, hydraulic, liquid-fueled, or power-actuated. Power tools also include portable abrasive wheels. These tools are invaluable to the workers using them but when they are used without the right training and safety precautions they can also cause serious injuries.
 Scaffolding accidents: Falls from scaffolding are a common type of construction accident, as well as being struck by objects dropped from workers on a scaffold. The severity of the injury is often directly related to how high the scaffolding is set up and the circumstances of how the accident occurred. Injuries can range from bruises and lacerations to head, neck, and spinal cord injuries and even death.
 Slip-and-fall accidents: Slip-and-fall accidents can occur due to wet and slippery surfaces, loose carpeting, and other conditions. Regardless of why you fell, you are covered by workers' compensation if the accident occurred at work.
Struck by Object: Struck by accidents involve being struck by an object on a work site. It is one of the leading causes of death on construction sites and is designated by OSHA as one of the "Fatal Four" types of accidents.
Vehicle Accidents: Many workers need to drive a vehicle as part of their job. Under the Pennsylvania workers' compensation act an employer is responsible for a vehicle accident if the employee was "on the job" at the time of the accident.
You have a right to workers' compensation benefits even if you were careless and caused the accident yourself. However, if you injured yourself deliberately or the accident resulted from drug or alcohol use, Workers' Compensation benefits may not be payable.
If the accident was caused by the negligence of a third party, you may have a right to recover additional compensation for damages such as pain and suffering by filing a personal injury claim.
What are the deadlines for filing a work injury claim in Philadelphia?
It is crucial for any person who sustains a workplace injury or illness to be mindful of deadlines for reporting these incidents. Any worker must report their injury or illness to their employer within 20 days in order to receive retroactive benefits. However, the workers' competition law in Pennsylvania is confusing because it contains language concerning the 20-day period as well as a 120-day deadline.
If an injured worker waits to report their injury to their employer until after the initial 20-day period, that is also acceptable, as long as they do so within 120 days of the injury. However, they will not be able to receive any retroactive benefits. If a worker reports the injury between days 21 and 120, they will receive benefits starting the day they report the injury or illness. If a report is made more than 120 days after the injury or illness occurs, the worker may not be able to recover any benefits at all.
That said, our South Philly and Bustleton attorneys always recommend that a person report any type of workplace accident that causes injury or illness as soon as they know about it. This helps clear up any confusion about when compensation should begin.
What type of compensation is available for a work injury in Philadelphia?
Any person who sustains any type of workplace injury or illness in an accident in Philadelphia should be entitled to various types of compensation. In general, any person who sustains an on-the-job injury or illness will be entitled to receive coverage for their medical expenses as well as the costs of traveling to and from medical examinations.
Additionally, injury victims will also be able to recover disability benefits if they are unable to work while they recover or if they are only able to perform light-duty work at a lower rate of pay. In general, a person will be able to receive two-thirds of their average weekly wage if they cannot work or two-thirds of the difference between their regular pay and the pay they receive for their light-duty work.
If a workplace injury was caused by a third-party, the injury victim may be able to recover compensation through a personal injury lawsuit against the alleged negligent party. In these cases, the injury victim will be able to recover additional compensation above and beyond what is available through Philadelphia workers' comp laws. This can include full compensation for medical bills, total recovery of lost wages, additional household out-of-pocket expenses, as well as pain and suffering damages.
Learn More About Types of Workplace Accidents in Philadelphia
Reach out to our firm today to begin reviewing the details of your claim.