Philadelphia Police Officer Workers' Compensation Lawyer
The risks that police officers face every day as they go out to perform their job duties are well known. The Bureau of Labor Statistics reports that the rate of both fatal and non-fatal injuries to police officers in 2014 was approximately four times that of all other occupations. If you are a police officer and were severely hurt while performing your job, contact a Philadelphia police officer workers' compensation lawyer at Gross & Kenny, LLP today. Our committed attorneys are here to help you pursue the benefits you deserve for your injuries and related losses.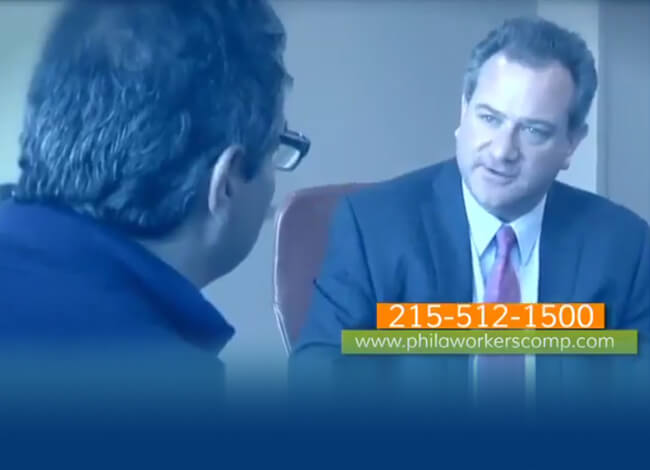 Watch our video to learnmore about our firm
Causes of injury to Bustleton police officers can range from slip and falls in the office or during training, to collisions, car accidents, and physical assault. Police officers are regularly called to investigate domestic violence and shootings, or to serve warrants to criminals. They can be struck by traffic when stopping drivers for a violation or assaulted when they encounter someone who is trying to evade arrest. This high-stress job can also lead to injuries that are non-physical like post-traumatic stress disorder (PTSD).
Compensation for Injured Police Officers
In South Philadelphia, police officers who are injured on the job have access to several different benefits. As with other injured workers, they are eligible for Workers' Compensation, but they also may receive payments under the Pennsylvania Heart and Lung Act, which provides full, tax-free compensation to temporarily disabled police officers and firefighters. Officers who have been permanently disabled and can no longer work are eligible for disability benefits under the federal Public Safety Officers' Benefits (PSOB) Act.
For police officers who are fatally injured in the line of duty, there are several benefits available to surviving dependents, including:
Death benefits from Workers' Compensation, PSOB, Social Security, and the Pennsylvania Act 101.
Funeral costs
Educational assistance through the Pennsylvania Higher Education Assistance Agency for children of police officers who reside in Pennsylvania and are aged 25 years and younger. This benefit provides full tuition to Pennsylvania community colleges, state-owned universities, and state-related colleges and universities.
To learn more about the benefits available to surviving dependents of police officers, contact our firm today to speak with a Philadelphia workers' compensation attorney serving Bustleton and South Philly.
Common Causes of Police Officer Injuries in Philadelphia
Police officers perform work that can often put them at risk of injury or death. The following are among some of the more common reasons police officers are harmed in the line of duty:
Vehicle accidents, which can be particularly likely to occur if a police officer is pursuing a suspect fleeing the scene of a crime
Assault, as potential suspects may sometimes respond violently when confronted by police officers
Slip and falls, may occur when officers are pursuing suspects on foot
Job-related illnesses, a perhaps surprisingly common cause of police officer deaths that may be accounted for due to the fact that police officers are exposed to many different individuals and environments when performing their duties
Stabbings and shootings
Again, those are just a few noteworthy examples. If you're a police officer who has recently been injured or developed an illness and you have any reason to suspect that these circumstances may justify filing a claim for workers' compensation benefits, contact a Philadelphia police officer injury attorney for more information. One of our attorneys will review your case and explain whether you have grounds to file such a claim based on the nature of your injury and the circumstances in which you sustained it.
Don't delay. The timeline for filing a workers' compensation claim can be fairly strict. If you wait too long to take action, you may accidentally forfeit your right to compensation.
Common Police Officer Injuries in Philadelphia
Just as there are several potential reasons a South Philadelphia police officer may be injured on-the-job, there are also many potential causes of police officer injuries. Examples include (but are not limited to) the following:
Burns
Traumatic brain injury, which can have a permanent impact on an officer's memory, mood, etc.
Tendonitis
Some of the injuries an officer may sustain could heal relatively quickly and may only require the officer to stay home from work for a brief period of time. Others can severely impact their quality of life for decades. An experienced Philadelphia police officer workers' compensation attorney will account for the full extent and severity of your injuries when negotiating with the insurance company for a fair settlement on your behalf. Although they cannot ethically promise you will recover a specific sum, they can improve your chances of recovering the full amount of compensation you deserve.
Why Use a Workers' Compensation Lawyer?
Pennsylvania Workers' Compensation provides those who have suffered a work-related injury with medical benefits, wage loss benefits, temporary or permanent disability benefits, and job training assistance if needed. Police officers are entitled to the same kind of Workers' Compensation benefits as other workers but proving occupational illnesses such as PTSD can be difficult. First responders, such as law enforcement, are routinely exposed to traumatic events more than regular workers and are held to a higher standard when trying to recover compensation. An experienced workers' compensation lawyer serving Bustleton and South Philadelphia can assist you in building a successful case and ensure you receive the maximum allowable benefits for your case, whether they are state or federal benefits. By working with a knowledgeable police officer workers' compensation attorney in Philadelphia, you can be sure you will not forfeit your right to benefits through administrative mistakes.
Other reasons Workers' Compensation claims for police officers are denied include:
Missing deadlines to file a claim
Failing to report an injury
Getting treated for an injury but failing to tell the doctor the injury was work-related
Errors on the claim form
The Workers' Compensation claim conflicted with a claim for other benefits such as Heart and Lung Act benefits
You must also consider the fact that seeking compensation in these circumstances can be an arduous task that you should not have to undertake on your own when you are already in the process of recovering from your injuries. Our team will handle the process for you, allowing you to get the rest you need. Our help can make a stressful time easier to endure.
Contact a Philadelphia Police Officer Workers' Compensation Attorney Now
Police officers are routinely injured in the line of duty and yet insurers will try to deny their claims for Workers' Compensation. If you are a police officer who has suffered a work injury, contact an experienced Philadelphia police officer workers' compensation lawyers of Gross & Kenny, LLP, who will evaluate your claim and make sure you receive the maximum allowable compensation for your case. Contact us online today. Our office is conveniently located in Philadelphia, meaning we serve injured clients throughout the surrounding areas of Bustleton and South Philly.