Philadelphia Construction Workers' Compensation Lawyer
Construction workers build the homes we live in, the buildings we work in, and the roads we take to get there. Construction work is filled with hazards, from operating heavy machinery to working at great heights. Every day construction workers face a risk of injury that is higher than the average occupation. According to the Bureau of Labor Statistics, one out of every five work-related fatalities happens during construction work. If you or a loved one have been hurt while working in construction, contact Gross & Kenny, LLP today to discuss your incident with a skilled Philadelphia construction workers' compensation lawyer.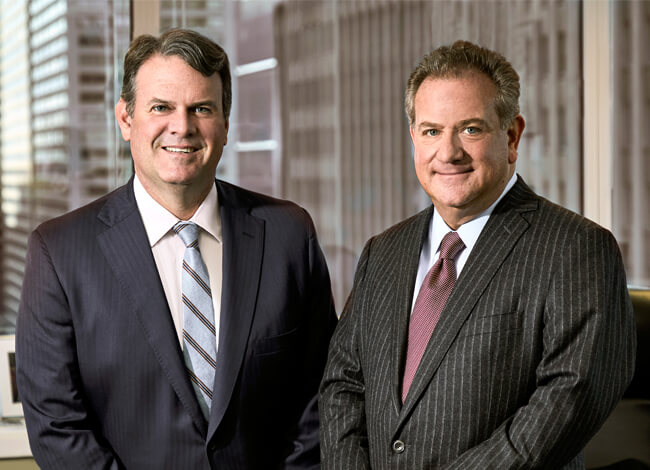 Watch our video to learnmore about our firm
test
There are many kinds of workers found within South Philly construction sites. The following is only a partial list of the types of jobs involved in construction:
Bricklayer
Carpenter
Concrete finisher
Electrician
Pipefitter
Plumber
Heavy equipment operator
Common Construction Injuries
According to the latest information available from the Centers for Disease Control and Prevention, the construction industry ranks third for occupational injuries that require days away from work. As a workers' compensation attorney can further explain, the injuries common to Bustleton construction workers are as varied as the jobs they do on-site. Common injuries include:
Construction workers can also suffer from work-related conditions such as:
Exposure to toxins including lead and asbestos
Hand-arm vibration syndrome
Hearing loss
Respiratory diseases
Filing for Workers' Compensation
The Pennsylvania Workers' Compensation system covers almost all workers injured in work-related accidents. Workers' compensation benefits cover medical treatment including prescription medications, lost wages, and compensation for family members after the loss of a loved one when an injury is fatal.
Regulation of Construction Worksites
Because construction worksites are so complex, they present multiple health and safety challenges. It is the employer's responsibility to ensure that the worksite complies with all federal and state safety standards. This includes providing safety training programs for workers and the appropriate personal protection equipment.
While most employers strive to maintain a safe work environment, some operate with a disregard for worker safety. If you have been injured in a construction accident that was due to negligence, such as improperly erected scaffolding, or an excavation cave-in, you may be able to file a claim against the responsible party with the help of a seasoned Philadelphia workers' compensation attorney. In many cases, the responsible party can be a subcontractor, vendor, architect, or engineer. Other examples of negligence include chemical leaks or spills, and unguarded equipment.
Defective Equipment and Third-Party Claims
Some injuries are caused by defective equipment. Equipment that malfunctions put construction workers at risk for serious harm. When an injury is caused by a defective product, the manufacturer, distributor, or supplier of that product can be held liable depending on the circumstances.
If it can be shown that the tool or piece of equipment was a danger when it left the supplier/manufacturer and that it caused your injury, then you may be able to recover compensation by filing a third-party lawsuit. You must have been using the tool or equipment according to the manufacturer's instructions at the time of the accident.
The Importance of Hiring a Workers' Compensation Attorney Representing Construction Workers
Again, Pennsylvania's Workers' Compensation system does not require that construction accident victims prove their accidents were the result of negligence for them to recover Workers' Compensation benefits. Thus, you might understandably assume that you can handle your claim on your own instead of enlisting the help of a legal professional.
Do not make this mistake. There are various reasons it is wise to hire a Philadelphia construction workers' compensation attorney in these circumstances. They include the following:
Proving Your Accident was Work-Related
Insurance companies are businesses. They are not necessarily charitable organizations. Like most businesses, the main priority of an insurance company is to maximize profits and minimize losses.
Thus, it is not uncommon for insurers in Bustleton and South Philly to initially react to Workers' Compensation claims by attempting to find reasons to justify denying them entirely. An insurer may attempt to argue that your accident did not occur when you were operating as an employee. If your accident was not genuinely work-related, you do not qualify for Workers' Compensation benefits.
The fact that an insurance company is arguing that you were not actually on the job when you were injured does not mean the insurer is accurately or honestly representing the facts of the case. Thankfully, with the help of a Philadelphia construction workers' compensation attorney, you can gather and provide evidence refuting the claims of the insurance company.
Documenting the Extent of Your Losses
Even when an insurance company does not deny your claim, the insurer will still attempt to settle for as little money as possible. This is why insurers want claimants to work with them directly instead of hiring lawyers.
The process of determining exactly how much compensation you are eligible to recover requires thoroughly documenting the extent of your losses and damages. This can be a complex task for someone without the necessary training and experience.
It is also another task that your lawyer can handle on your behalf. Your attorney will coordinate with your doctors, physical therapists, and anyone else involved in your case to calculate how much compensation would represent an appropriate settlement. While a lawyer cannot promise that you will recover a specific amount of money, your odds of settling for a fair sum will generally be greater if you have legal representation.
Remember, you might also have the right to pursue additional compensation by filing a third-party claim or lawsuit. Your attorney can investigate the details of your case and determine if this is an option.
Allowing You to Focus on Your Recovery
The aftermath of a construction accident can be a very difficult time. During this time, your main focus should be on your recovery.
It is easier to prioritize your needs when a lawyer is handling your claim. While you rest and recover, our Philadelphia construction accident workers' compensation attorneys will handle all correspondence with the insurance company, complete and submit paperwork, and attend to all other tasks that the claims process may involve.
Contact a Philadelphia Construction Workers' Compensation Attorney Today
If you or someone you love has been injured working on a construction job, contact a Philadelphia construction workers' compensation lawyer at Gross & Kenny, LLP. Reach out to our firm to schedule an initial consultation. We serve injured workers throughout Bustleton, South Philly, and the rest of Philadelphia.