Philadelphia Commercial Truck Driver Workers' Compensation Lawyer
Work-related injuries are common among commercial truck drivers. Truck drivers rank sixth on the list of top occupations for nonfatal work-related injuries and illnesses that require days off from work. On average, commercial truck drivers are three times more likely than other U.S. workers to suffer from an injury or illness that needs time off from work for recovery. American truck drivers take a median number of 22 days off as a result of occupational injuries and illnesses. If you have been harmed in a commercial trucking accident, contact a dedicated Philadelphia commercial truck driver workers' compensation lawyer from Gross & Kenny, LLP today. We serve injured parties throughout Bustleton and South Philly and can advise you of your legal options.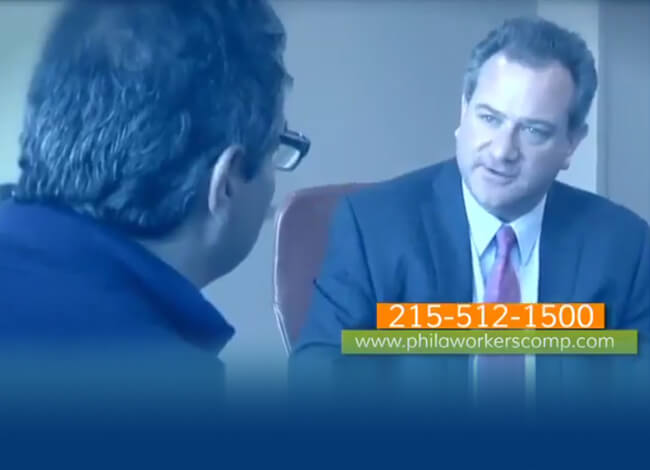 Watch our video to learnmore about our firm
Common Injuries
The most common injuries for truck drivers are sprains and strains. According to the Occupational Safety and Health Administration (OSHA) sprains and strains account for 50 percent of work-related injuries for truck drivers. Other work injuries suffered by commercial truck drivers in South Philly include:
Bruises
Fractures
Lacerations and cuts
Multiple traumatic injuries
Musculoskeletal disorders
Pain and soreness
Causes of Injuries
As a Philadelphia workers' compensation attorney can further explain, overexertion is the cause of many of the sprains and strains sustained by Bustleton commercial truck drivers. Assisting with the loading and unloading of cargo requires drivers to lift, push, and pull heavy containers. This can result in damage to muscles, tendons, and joints and lead to musculoskeletal disorders.
Slips, trips, and falls on warehouse loading docks or from the height of the truck cab are also common and can cause injuries ranging from fractures and lacerations to broken bones and back injuries.
Truckers also sit for extended periods of time, which increases the risk of health conditions such as high blood pressure, high blood sugar, and cardiovascular disease. Sitting for hours can also cause neck and back problems. Vibrations from the truck can cause repetitive stress injuries as can the continual use of the muscles in the hand using the gearshift, or the foot used to pedal.
Struck by accidents can cause injuries to the head or feet. Cargo can shift and fall during loading and unloading resulting in serious injuries that require time off from work to recover.
Vehicle accidents are very dangerous for commercial truck drivers, especially if they are transporting hazardous materials. Due to the size and weight of the average tractor-trailer, a truck accident can be a catastrophic event inflicting life-changing spinal cord or traumatic brain injuries on the driver. These types of injuries generally result in long hospital stays and extended rehabilitation periods.
Employer Responsibility
All employers in Bustleton and South Philly have a responsibility to ensure the safety of their workers. This means adhering to the regulations governing Hours of Service so that drivers are well-rested and not fighting fatigue. Regular equipment maintenance is also key to preventing truck accidents. Some companies run health and wellness programs to monitor the health of their drivers.
Workers' Compensation Claims
Commercial truck drivers who have injuries from a work-related accident are advised to seek qualified legal counsel when filing a claim for Workers' Compensation. Seeking compensation for an injury is very different for a driver than the average worker due to the nature of their job. Being on the road constantly makes it hard to see a doctor and receive reimbursement for treatment. Calculating wages and pay for work missed due to injury and illness can be difficult when paid by the mile.
How Philadelphia Workers' Compensation Attorneys Help Injured Commercial Truck Drivers
Workers' Compensation cases are somewhat unique when compared to many other types of personal injury cases. In South Philadelphia, when filing a Workers' Compensation claim, a commercial truck driver does not need to first prove that their accident resulted from the negligence of another to demonstrate that they are eligible to recover compensation. As long as they can prove that their accident was genuinely work-related, they can recover Workers' Compensation benefits.
Thus, some might assume that the process of securing the compensation they are owed after being injured while operating as an employee of a trucking company is a relatively easy process. They may conclude that they can handle this task on their own and do not require the help of a qualified legal professional.
This is an understandable assumption. However, studies and surveys routinely indicate that victims in these circumstances are far more likely to arrive at fair settlements when they hire attorneys to represent them. Specifically, a Philadelphia Workers' Compensation attorney can help an injured truck driver in the following critical ways:
Proving the Accident Was Work-Related
Insurance companies operate the same way any other type of business operates. The goal of an insurer is not necessary to provide a claimant with proper compensation. Instead, an insurer will attempt to minimize their financial losses when an injured worker files a claim.
Some insurers respond to Workers' Compensation claims by denying them entirely. They may argue that a claimant was not on the clock when they were injured and therefore is not eligible for Workers' Compensation benefits.
The fact that an insurance company denied a claim does not mean the insurer had a valid reason to do so. Guard against this by hiring a Philadelphia Workers' Compensation attorney to represent you from the start.
It is also worth noting that some of the injuries you might sustain as a result of working as a commercial truck driver can develop over time. Showing that you developed repetitive stress injuries due to the nature of your work can be a complex task. Luckily, this is one of many tasks your lawyer can assist you with.
Negotiating
Negotiating
An insurer who cannot justify denying your claim will still likely attempt to convince you to settle for less than your claim is worth. This will be more difficult for an insurer to achieve if you have representation from a Philadelphia workers' compensation attorney who has experience representing injured commercial truck drivers in Bustleton and South Philly.
Your lawyer can document the full extent of your losses to demonstrate why you are eligible to recover a certain amount of compensation. If the insurance company's initial offers are unreasonably low, your lawyer can negotiate for a more appropriate settlement on your behalf.
Allowing You to Focus on Your Recovery
Allowing You to Focus on Your Recovery
This is very important. The injuries you might sustain when involved in an accident as a commercial truck driver can be very serious. Instead of adding to your burdens by attempting to handle your Workers' Compensation claim alone, prioritize your recovery by hiring an experienced Philadelphia commercial truck driver workers' compensation attorney to handle the claim for you.
Schedule a Consultation With a Philadelphia Commercial Truck Driver Workers' Compensation Attorney
If you or someone you love has been injured while driving a commercial truck, contact the Philadelphia commercial truck driver workers' compensation lawyers of Gross & Kenny, LLP. Please complete our online form to schedule an initial consultation. Our offices are located in Philadelphia, allowing us to serve Bustleton and South Philly.