Philadelphia City and State Employees Workers' Compensation Lawyer
All Workers' Compensation cases have the potential to be complicated. Even when taking that into consideration, cases involving work-related injuries to city and state employees are extremely complex. If you are an injured city or state employee, it is important to remember that your rights weren't checked at the door when you chose to work for a public entity — you deserve benefits just like any other injured worker.
At Gross & Kenny, LLP, we have been representing injured state and city workers in Bustleton and South Philadelphia for more than two decades. Led by a certified Workers' Compensation attorney,* we have what it takes to make sure that you get the full benefits you are entitled to, including wage loss and medical benefits. Contact our team of diligent Philadelphia city and state employee workers' compensation lawyers today to discuss your legal options.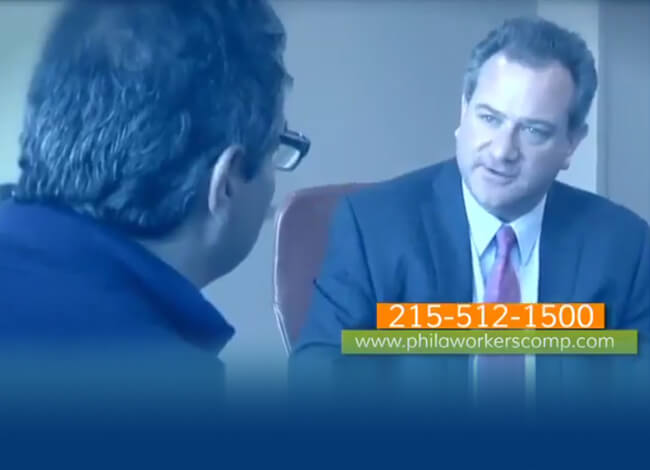 Watch our video to learnmore about our firm
Police Officer And Firefighter Workers' Compensation Benefits
At our firm, the personalized attention we provide to our clients sets us apart. You can rely on us to keep you informed of your rights and your options at every stage of the process. We have demonstrated our commitment to our clients in each and every case for more than two decades, including cases involving injured:
City bus drivers
Public works employees
Potential Injuries City and State Employees May Sustain
The types of injuries one may sustain in a work-related accident when operating as a city or state employee can vary substantially depending upon the nature of their work. The following are simply among the more common types of injuries these employees may sustain:
Those are just a few examples. Regardless, injuries sustained in an on-the-job accident will often leave a city or state employee facing costly medical bills that they may not be prepared to pay for. These injuries can also deprive them of the ability to return to work and earn their wages.
Our valuable city and state employees deserve to be compensated when this happens. They can pursue the compensation they may deserve by filing claims to collect workers compensation benefits.
It is very wise for injured city or state employees to enlist the help of Philadelphia Workers' Compensation attorneys representing South Philly and Bustleton. Having proper legal representation in these circumstances can play a critical role in the outcome of one's case.
How a Philadelphia Workers' Compensation Attorney Can Help City and State Employees
There are various reasons it is a good idea to have a lawyer by your side when seeking compensation after being injured at work. The following points will help you better understand how an attorney can protect your rights:
Negotiating with the Insurance Company
Do not make the mistake of assuming that your employer's Workers' Compensation insurance provider is inclined to offer you the full amount of compensation you deserve based on the extent and severity of your losses and injuries. Insurance companies operate like all other businesses. Their goal is to minimize their financial losses.
When you file a claim in Bustleton, an insurer might initially respond by attempting to deny it. They could do so by trying to suggest that your accident did not occur when you were operating as an employee.
Even if an insurer is unable to justify denying your claim entirely, the insurance company is still likely to offer less compensation than your claim is genuinely worth. You will have a better chance of arriving at a fair settlement if you have representation from a city or a state employee workers' compensation attorney who has experience negotiating with insurance companies.
Identifying Negligent Third Parties
In many types of personal injury cases, it is necessary for a victim to identify the negligent party responsible for causing the accident before they can recover compensation for their medical bills and related losses. This is because their means of recovering compensation will be to file a claim to recover compensation from the insurance of the negligent party. Or, they can sue the negligent party and seek damages in court.
This is not necessary when you have been injured in a work-related accident. In South Philadelphia, when filing a Workers' Compensation claim, you do not need to prove negligence to show that you deserve Workers' Compensation benefits. You only need to show that your accident genuinely occurred on the job.
However, it is worth noting that Workers' Compensation does not cover certain losses that you may receive compensation for if you were to file a traditional personal injury lawsuit. For example, Workers' Compensation benefits do not apply to such noneconomic losses as pain and suffering.
It is possible that your accident occurred because someone was careless. For example, a city bus driver could be involved in an accident because the manufacturer of their vehicle overlooked a defect.
In these instances, a victim can potentially seek more compensation than what Workers' Comp benefits will provide by filing a separate third-party claim or lawsuit. A Philadelphia Workers' Compensation attorney representing city and state employees can review your case and determine if this is an option.
Allowing You to Focus on Your Recovery
This is critical. After being injured at work, your main goal should be to recover as quickly and as easily as possible. Our Philadelphia city and state employees workers' compensation attorneys can help you do so by handling all tasks the claims process may involve.
Trust Your Claim to a Philadelphia City and State Employees Workers' Compensation Attorney
As you prepare to take on your employer, which also happens to be your city or state, can you afford not to have an experienced attorney on your side? At Gross & Kenny, LLP, we handle all cases on a contingent fee basis, which means we don't get paid unless you get paid. Call our firm today to schedule your free, confidential consultation with a Philadelphia city and state employees workers' compensation lawyer.
*Jeffrey S. Gross is certified as a specialist in the practice of Workers' Compensation Law by the Pennsylvania Bar Association's Section on Workers' Compensation Law as authorized by the Pennsylvania Supreme Court.