Philadelphia Workers' Compensation Hearings
The workers' compensation process in Pennsylvania is not "user friendly." Injured workers are often confused and overwhelmed by requirements, filing deadlines, and complex rules they are expected to abide by. Even the smallest mistake throughout the process can cause immense damage in the form of reduced benefits or even a denial of needed benefits.
Jeffrey S. Gross and Patrick W. Kenny, along with their team of experienced attorneys have a comprehensive knowledge of all aspects of the workers' compensation process. From filing the correct petitions to ensuring you are fully prepared for your Philadelphia workers' compensation hearings, we will handle everything so you can focus on recovering from your work-related injury.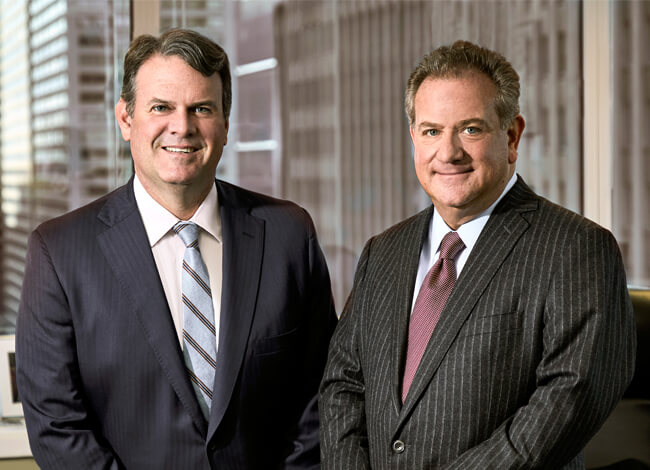 Watch our video to learnmore about our firm
Workers' Compensation Claims
Workers' compensation hearings are an area where our commitment to client service in South Philly and throughout the state is a tremendous asset. Large workers' compensation "mills" run the risk of losing track of the scheduling order and important deadlines. Our attorneys work directly with injured workers to prepare them for all aspects of the hearing.
We will prepare you for your testimony and make sure that we are bringing the strongest possible claim on your behalf, backed by exceptional evidence that is often obtained through collaboration with professional experts.
Our team is made up of knowledgeable attorneys who are also strong negotiators. This is advantageous to our clients as workers' compensation cases are bound to the scheduled mediation. We are led by Jeffrey S. Gross, a certified specialist* with more than two decades of hearing and mediation experience. We are thoroughly familiar with all the judges in Philadelphia and surrounding counties, as well as their respective procedures.
Common Types of Petitions
Philadelphia workers comp hearings, also referred to as petitions, can take many forms. Depending on where you are at in the worker's comp. claims process, there are multiple types of hearings you may need to prepare for, some of which could include:
Your claim hearing
The termination petition
Suspension hearings
Modification petitions
Benefit reviews
Medical reviews
Employee challenge petitions
Compromise and release petitions
Utilization reviews
When you get notice of an impending worker's comp. hearing, make sure you understand what to expect and how to prepare so you can secure the benefits you will need to overcome your other job injuries. Your attorney can offer you legal guidance and support while advocating for the benefits you are entitled to.
What to Expect at Your Workers Comp Hearing
Throughout the worker's compensation claims process, there are many instances in which you may need to attend a worker's comp. hearing in Bustleton, South Philly, or other areas of Philadelphia. Generally, a county judge will be assigned to your case and you will be required to attend a series of hearings before your claim for benefits can be approved.
At your initial work comp hearing, you will need to present all of the evidence needed to support your case. This might include your medical reports and physician statements, diagnostic images, photographs of your injuries, photos of the accident scene, video of the accident that caused your work injuries, expert testimony, witness statements, and other pieces of supporting evidence. You may also be required to testify at your initial hearing.
Your employer and their insurance company will then also have the opportunity to argue their case for why you should not be approved for the worker's comp. benefits you may otherwise be entitled to.
Once the judge has heard both parties' cases, they will independently review the evidence further. Depending on the type of petition hearing you are attending, it is possible for the judge to make a decision the same day of your hearing. This means your benefits could be stopped, continued, or modified from that initial hearing. For this reason, it is critical that you get an experienced attorney to help you adequately prepare for your petition hearing.
If the judge does not make a decision on the spot, they will have the authority to issue a written decision at a later date after having reviewed the evidence further. If the judge comes down in your favor, you may access the benefits that you were hoping for. However, if this happens, your employer and their insurance company may have the right to file an appeal. If the judge's decision does not come down in your favor, you will then have the right to file an appeal.
Contact an Attorney for Guidance Through Your Philadelphia Workers' Comp Hearing
As your Philadelphia workers' compensation hearing approaches, you need an experienced advocate on your side. The petition hearings process can be overwhelming, but when you have a knowledgeable attorney from Gross & Kenny, LLP advocating for your rights, you can focus on recuperating while we work on securing you the benefits you need to continue supporting yourself and your family.
When you are ready to schedule your free, no-obligation consultation, fill out our quick contact form or give our office a call.