Philadelphia Workers' Compensation Appeals Lawyer
If your workers' compensation claim has been denied, do not panic. This does not mean that you will receive no compensation. Your first step should be to seek assistance from a skilled Philadelphia workers' compensation appeals lawyer at Gross & Kenny, LLP.
Employers closely scrutinize all requests for workers' compensation benefits. This is because the more frequently an employer generates a workers' compensation claim, the higher a premium they will be charged for workers' compensation insurance. Accordingly, employers and their insurers frequently issue denials in response to an initial request from an injured worker for workers' compensation.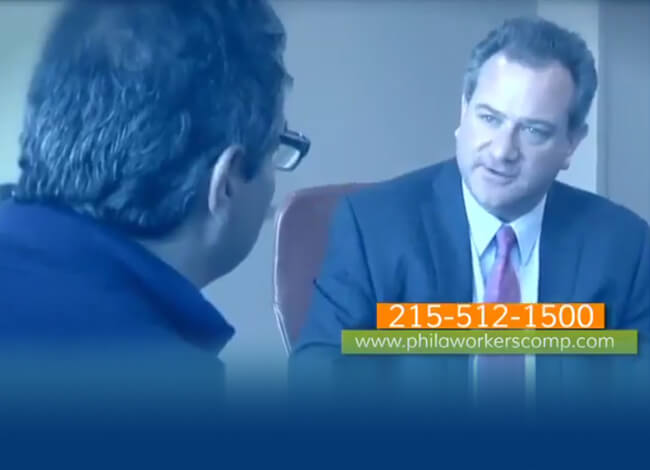 Watch our video to learn more about our firm
A path for reversing a denial of benefits does exist, however. The appeals process –although complex – is worth being sought out by injured workers. Not only will a successful appeal provide financial security for employees and their families, but it will also provide employers with a powerful incentive to take steps to ensure a safer workplace.
Timelines, Testimony Matter in Workers' Compensation Appeals
According to Philadelphia workers' compensation appeals attorneys, insurers should provide an employee with the reason why their claim was denied. If missing paperwork was to blame, an employee may attempt to rectify the omission directly with the insurer. If the denial indicates that the decision was substantive in nature, or when workers' compensation benefits have been eliminated before an employee is prepared to return to work, a formal appeal must be filed.
Under Pennsylvania's workers' compensation laws, the dispute must be heard by a specially trained workers' compensation judge. Both sides may present evidence and offer testimony before the judge regarding the workplace accident which led to injury, eyewitness accounts, the diagnosis offered by a treating physician, and the employee's medical prognosis. At the conclusion of the hearing, the judge will confirm or reverse the denial of benefits.
You Need to Appeal a Philadelphia Workers' Compensation Denial Quickly
Injured employees in Bustleton and South Phildelphia still have recourse even if they do not prevail before a workers' compensation judge. Within 20 days, a case can be appealed to the workers' compensation Appeals Board, a 12-member panel that convenes approximately four times each year.
Although the Appeals Board will not entertain any new evidence or testimony, they will engage in a lengthy review of the record of the proceedings held before the workers' compensation judge and can reverse those findings if a procedural error or incorrect application of the law is found.
Time to File a Philadelphia Workers' Compensation Lawsuit
If the administrative appeals protocol again fails to yield an award of workers' compensation benefits, an injured employee may file a lawsuit in the Pennsylvania Commonwealth Court. A written decision will be issued, which can then be appealed to the Pennsylvania Supreme Court.
According to Philadelphia workers' compensation lawyers, plaintiffs should always keep a close eye on the calendar. An appeal to Pennsylvania Commonwealth Court must be initiated within 30 days of an adverse Appeals Board ruling; similarly, an appeal to the Pennsylvania Supreme Court must be initiated within 30 days of receiving notice of the Commonwealth Court's ruling. A ruling by the Pennsylvania Supreme Court is considered final and non-appealable.
A Philadelphia workers' compensation lawyer can help
The strength of a claim for workers' compensation will vary from case to case. Not all employees will be injured in the presence of their coworkers, or sustain injuries that make continued work clearly impossible. However, even claims for workers' compensation that are less uncertain still deserve thoughtful attention and careful review. When a claim is denied for arbitrary reasons it can – and should – be appealed by an injured worker. The assistance and counsel of an experienced Philadelphia workers' compensation appeals lawyer can increase the odds of a successful appeal.
We cannot stress enough just how invaluable of a resource a workers' compensation attorney in Bustleton and South Philly will be for your case. Most injured workers do not have the resources or legal expertise necessary to properly gather the evidence they need for their claim and handle the appeals process. However, a skilled attorney can:
Obtain all evidence needed to prove what happened
Ensure that their client is properly evaluated by a trusted medical professional
Make sure that every claim is filed within the deadlines set by workers' comp laws
Handle all correspondence with workers' compensation insurers, employers, and attorneys
Meet With a Philadelphia Workers' Compensation Appeals Attorney
If you or a loved one has recently been denied workers' compensation benefits, the Philadelphia workers' compensation appeals lawyers of Gross & Kenny, LLP, will fight tirelessly on your behalf. Before embarking on the appeals process alone, contact us to schedule a free initial consultation at our Philadelphia, Pennsylvania offices. For over 25 years, lead attorney Jeffrey S. Gross has been securing workers' compensation benefits on behalf of local clients. Call today to find out how we can help.